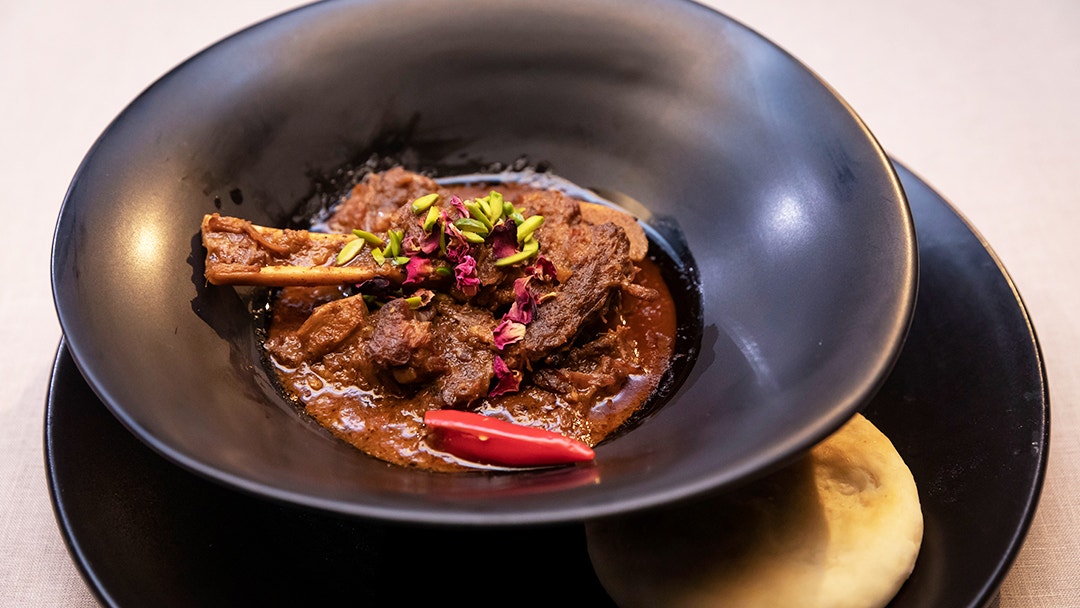 Steps
For the Goat Nihari, place goat meat into a bowl with cumin, 1 tablespoon each ginger and garlic paste, salt and pepper. Mix until well coated then set aside for 15 minutes.
Heat a large saucepan over medium high heat. Add 60g ghee and when hot, add goat meat and sear until browned all over. Remove from the pan and set aside.
Reduce heat to medium low and add ghee, onion paste, remaining ginger and garlic pastes and remaining spices and sauté until mixture is very lightly golden brown in colour.
Add tomato puree and simmer until thickened.
Return goat to pan along with goat bones and stock and bring to a rolling boil.
Simmer over high heat for 20 minutes. Reduce heat to low, cover with lid and simmer until goat is tender and sauce is well flavoured, about 1 ½ - 2 hours. Add a little water or stock if necessary, stirring regularly. Finish by stirring through kewra water and salt, to taste. Remove from heat.
For the Naan, activate yeast in a bowl with sugar and warm water and set aside for 10 minutes.
Place remaining ingredients, except pistachios, in the bowl of a stand mixer bowl and combine on low speed.
Add yeast mixture and mix to combine.
Use a dough hook to knead the dough for 3-5 minutes.
Place dough in bowl, brush with olive oil and cover with tea towel. Set aside in a warm place for at least 1 hour to double in size.
Preheat oven to 160C.
For the Confit Onions, slice onions as thinly as possible. Place in heavy based roasting tray with the ghee. Bake for 45 minutes until golden. Remove from the oven, cover and set aside.
Increase oven temperature to 240C.
Turn Naan dough out onto a clean work surface and knock out air. Portion into eight 50g balls.
On a floured bench, place each ball under small flat plate and press down firmly to create perfect circles of dough. Place onto a lined baking tray. Brush with ghee and place slivered pistachios in centre of each.
Bake on the top shelf in oven for 8-10 minutes. Flip over to cook through, another 2-4 minutes.
Take out of oven, brush with ghee and sprinkle with salt flakes. Cover loosely with a clean tea towel and set aside in a warm place.
To serve, divide goat nihari evenly into each bowl. Place goat marrow bone on top. Add some confit onions, slivered pistachios, bird's eye chillies and dried rose petals. Serve with Naan Nawabi on the side.