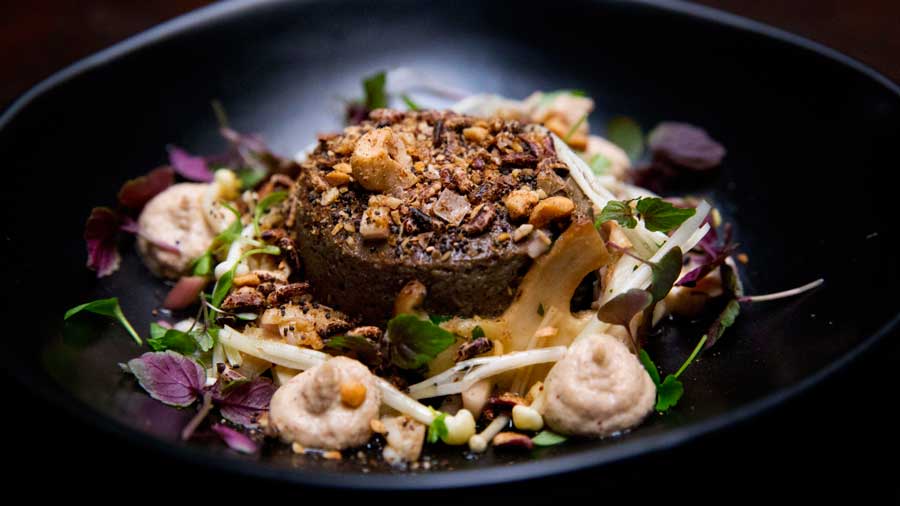 Steps
Preheat oven to 180C.
For the mushroom puree, soak porcini in hot beef stock for 20 minutes or until soft. Strain and set aside. Place butter to a hot frypan. Saute garlic, onions and mushrooms until tender. Transfer to a blender along with remaining ingredients and process until smooth. Pass through a fine sieve and set aside in a bowl.
For the mushroom custard, add eggs, egg yolks, cream and salt to the mushroom puree and whisk well to combine. Place 8 x 100ml capacity greased ramekins into a deep baking dish. Pour custard into ramekins then fill baking dish with hot water until halfway up the sides of ramekins to create a bain marie. Bake until just set, about 20 minutes. Remove from oven and set aside to cool in the fridge.
For the hazelnut granola, heat grapeseed oil in a frypan until just smoking. Add wild rice and cook until bubbles settle. Remove from oil, strain through a sieve and set aside in a medium bowl. Meanwhile, pulse hazelnuts until just chopped. Add to rice. Place porcini onto a small tray and roast for 8 minutes. Transfer to small food processer and process to a fine powder and add to bowl. Mix in poppy seeds, salt and cracked pepper and combine. Set aside.
For the hazelnut cream, place hazelnuts and milk in a small saucepan, cover and simmer until soft, about 30-35 minutes. Transfer to a food processor, add cream and process until smooth and creamy. Season and transfer to a piping bag.
For the mushroom pickle, place vinegar, sugar and 125ml water into a small saucepan. Bring to the boil the pour over chopped shallots and enoki mushrooms in a small bowl. Season and set aside.
For the sauteed mushrooms, heat a large frypan over medium heat. Add butter and once foaming, add mushrooms and parsley. Cook, stirring until just tender. Add lemon juice and season to taste. Set aside, keeping warm.
For the garnish, combine enoki mushrooms, white truffle oil and salt in a small bowl.
To serve, unmould custard into centre of serving bowls. Scatter sauteed mushrooms and pickled mushrooms around custard. Pipe some hazelnut cream then garnish with dressed enoki mushrooms and granola. Scatter with micro herbs.