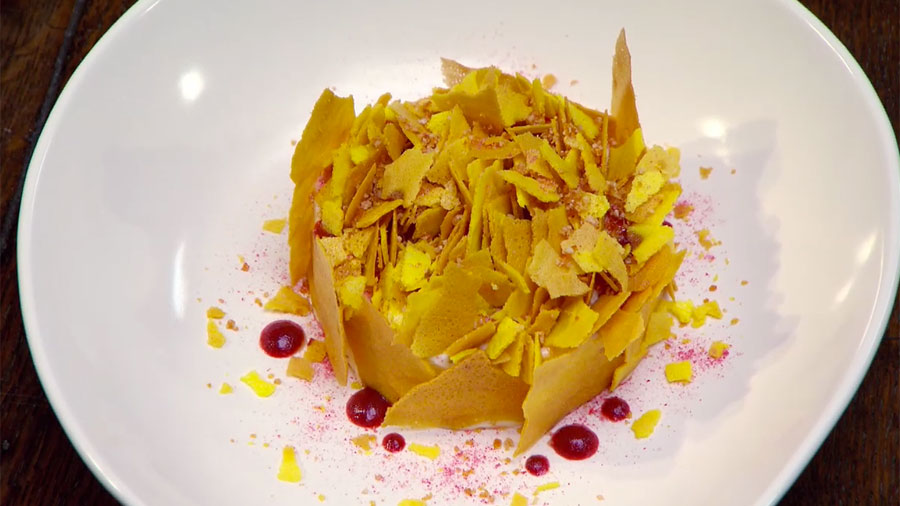 Steps
For the mousse, combine the cream, vanilla, lemon verbena leaves and white chocolate in a saucepan. Heat until chocolate melts then add the yolks. Whisk well, then heat to 85°c
Remove from head, and then strain into a bowl.
Soak gelatine in water until soft. Whisk into chocolate mix, and then chill well.
Fold the whipped cream, into the chilled mix then, pour into two 8cm diameter metal molds and place in the fridge.
Meanwhile, make the curd. Place all ingredients into a saucepan and heat slowing until thickened. Remove from heat and spoon into 4 x 3 cm silicon half circle molds and freeze.
To make the strawberry puree. Put all ingredients into a saucepan and cook until soft and sticky, using a stick blender, blitz the berries to a smooth puree. Strain into a piping bag.
Once the curd has half frozen, spoon out a 1.5cm hole in the middle of all 4 domes fill with the strawberry puree then freeze again.
To make the sorbet, blitz all ingredients in a food processor and set aside.
Once the strawberry domes have frozen take them out of the molds, heat one quickly on the flat side and mold the two domes together to make a sphere. Poke into the mousse until almost fully submerged. Set aside to set in fridge.
For the praline, melt the sugar to a dark caramel, then pour over the roasted nuts set to cool, then blitz in a food processor to a fine crumbs. Set aside.
To make the saffron 'corn flakes', whip the egg whites to soft peals. Meanwhile, soak the saffron in the water until a good flavour and colour has been achieved. Pour into the whites with the sugar, flour, colouring and melted butter and stir to combine.
Spread out the flake mix thinly onto a tray and bake for 8-10 mins or until golden and the colour of 'corn flakes', remove from the oven and break into little flakes.
To assemble, remove the mousses from the molds and put onto a plate. Sprinkle some praline and sherbet over the top, then place the flakes on, one by one to the cover the whole mouse. Sprinkle over some more praline and pipe the strawberry puree over and around.