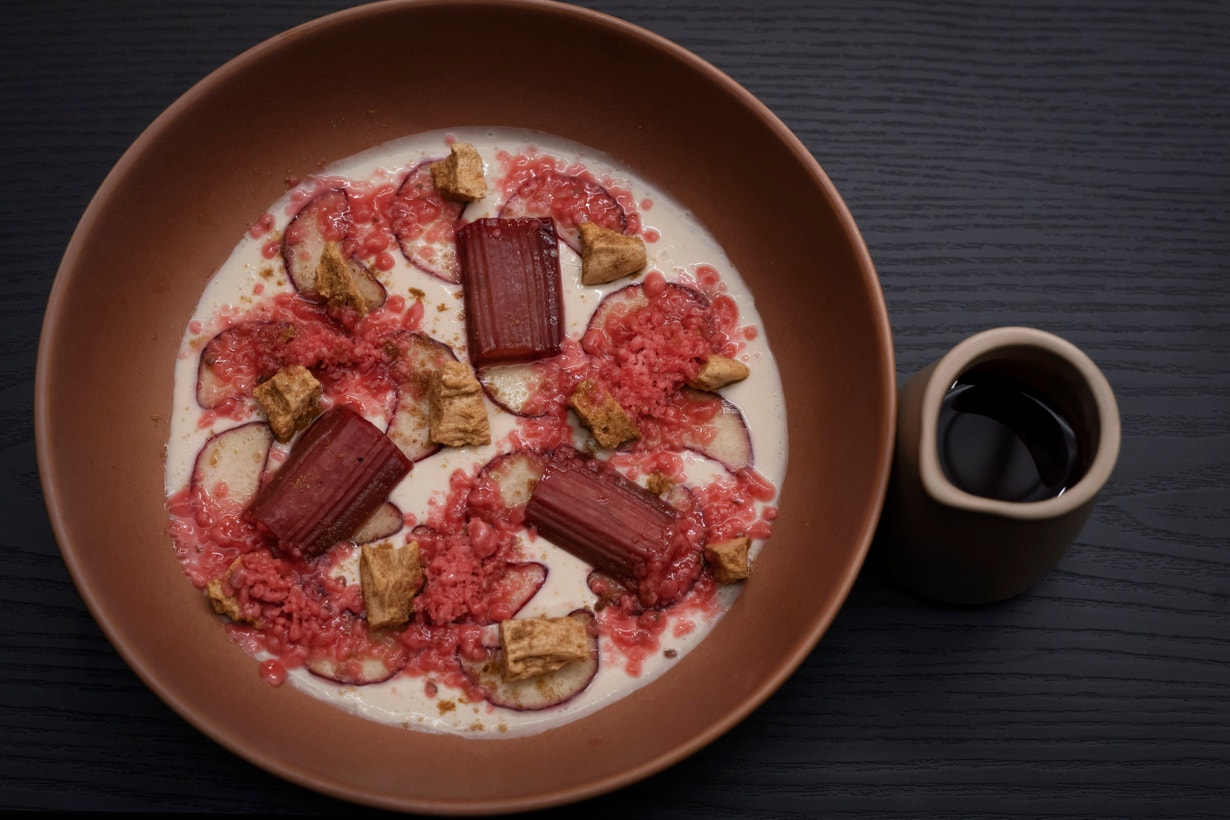 Ingredients
Poached Rhubarb in Rosemary Syrup
Steps
For the Cumin Panna Cotta, bloom gelatine in a bowl of cold water for 5 minutes.
Combine buttermilk, cream, vanilla and cumin in a saucepan and bring to a simmer.
Drain gelatine and squeeze out excess water. Add to buttermilk mixture and stir until dissolved. Strain through a very fine sieve into a jug and pour into 4 x 15cm wide shallow bowls. Allow to set in the fridge for 2-3 hours.
For the Rhubarb Snow, combine all ingredients in a large saucepan with 1/4 cup water. Cook over medium heat until rhubarb breaks down and is tender.
Process with a stick blender then pass through a sieve into a clean bowl. Cool in fridge until very cold.
Prepare a bowl of liquid nitrogen.
Pour the rhubarb mix into a syphon gun and charge once with a cream charger.
Dispense a small amount into a bowl to prime the syphon gun then carefully dispense the liquid into the bowl of liquid nitrogen. Stir using a slotted spoon to break up the snow. Transfer snow in small batches to a blender or Thermomix and pulse to a fine snow. Set aside in freezer until ready to serve.
For the Poached Rhubarb in Rosemary Syrup, place all ingredients, except rhubarb, into a saucepan and bring to a boil. Reduce heat, then add the rhubarb and simmer until tender. Remove from heat and place in fridge to chill.
For the Cumin Honeycomb, line a deep bowl with baking paper and set aside.
Place the sugar and syrups into a deep saucepan. Bring to 140°C then remove from the heat.
Working quickly, add the bicarb and whisk until dissolved and mixture is very foamy. Immediately pour into lined bowl and set aside to cool.
Combine cumin and salt in a small bowl and sprinkle lightly over the honeycomb. Break into small pieces then store in an airtight container until ready to serve.
For the garnish, combine the rhubarb ribbons and sugar in a bowl and set aside to macerate slightly. Drain well before using.
To serve, remove panna cottas from fridge. Arrange rhubarb batons over the panna cottas, along with a few spoonfuls of the rhubarb snow and pieces of cumin honeycomb. Serve with a small jug of rosemary syrup, pouring over just before serving.
Notes
Store leftover honeycomb in an airtight container.