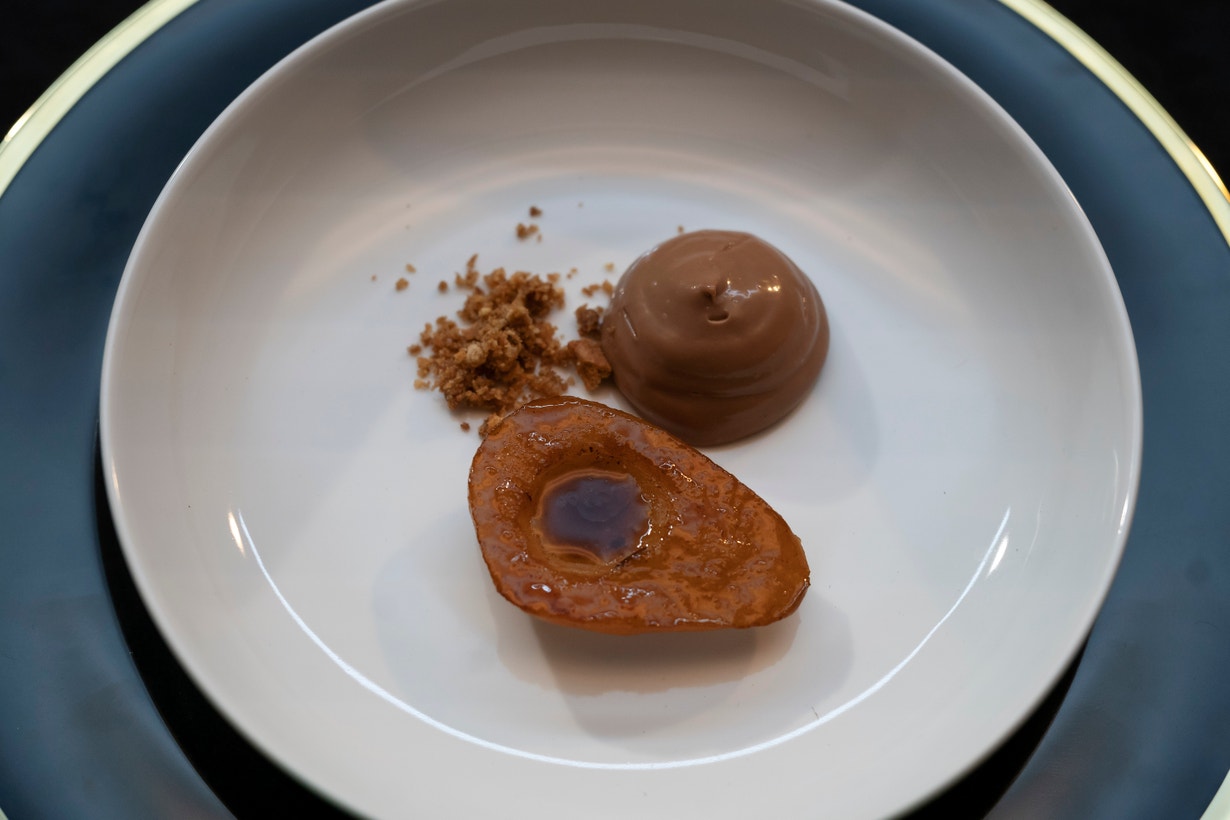 Steps
Fill and heat a water bath to 80°C. Heat oven to 175°C.
For the Masala Chai, place milk and chai tea in a bowl and set aside to infuse for 20 to 30 minutes. Strain and reserve 100ml of infused milk.
Place the infused milk, vanilla bean and seeds and trimoline into a saucepan. Remove from the heat and add the drained gelatine.
In the meantime, place the chocolate into a microwave safe bowl and microwave in bursts until melted, smooth and the temperature is 40°C.
Rewarm the milk and strain through a fine sieve over the chocolate in three stages and stir vigorously to emulsify.
Add the cold cream and stir again, ensuring to avoid incorporating air bubbles. Transfer to an airtight container, cover the surface and set in the fridge for 3 hours. Transfer to the bowl of a stand mixer and mix with the paddle attachment until smooth and creamy. Transfer to a piping bag fitted with round piping tip and reserve in the fridge until needed.
For the Digestive Ginger Crumble, place biscuits into a small food processor and process to a crumb. Transfer to a bowl and add remaining ingredients. Spread onto a lined tray and bake until golden, about 15-20 minutes. Remove from the oven and set aside to cool and crisp. Store in an airtight container until needed.
For the Poached Pears, peel pears, reserving skins. Cut in half lengthways and using a melon baller, scoop out the core and stem. Put the halves into a vacuum sealable bag with remaining ingredients (except butter) and vacuum seal. Cook in water bath until tender, about 15 minutes. Remove pears from the bag and reserve poaching liquid. Strain through a fine sieve.
Heat a large pan over medium heat. Add butter and when foaming, add pear halves, cut side down and cook until golden. Add the strained poaching liquid and cook until syrupy, adding more butter if needed.
To serve, place a pear half on each plate. Pipe a generous amount of chai mousse on the plates and add a spoon of crumble.