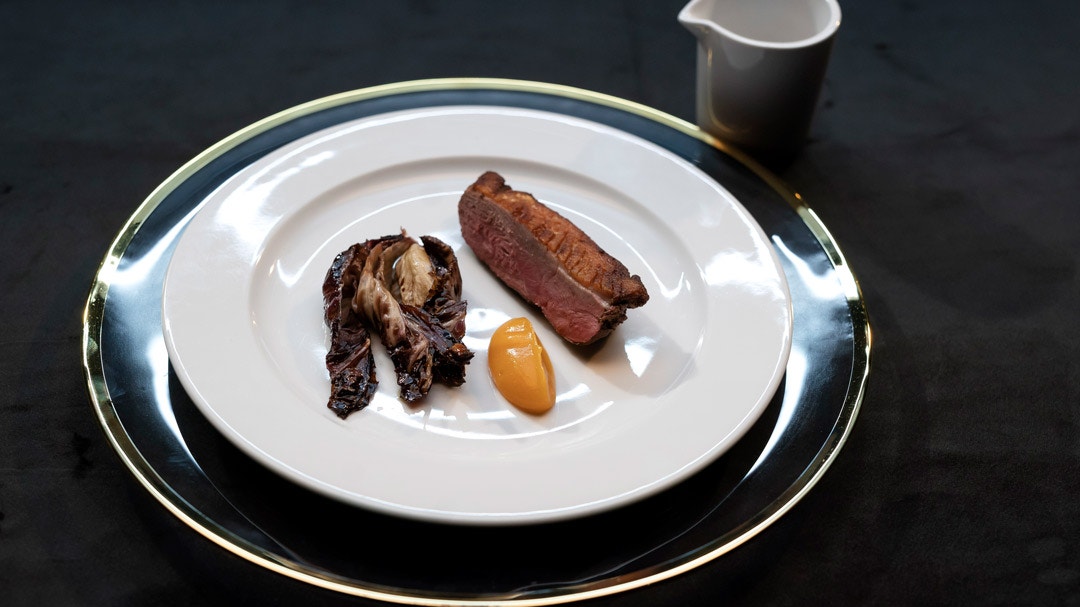 Steps
Fill and heat a water bath to 54oC. Preheat oven to 180°C fan-forced.
For the Spiced Duck Breasts, score the skin of the duck breasts.
Mix the spices and salt together then press onto the flesh side of the breasts.
Place the duck breasts individually into sous vide bags with a splash of olive oil. Vacuum seal and cook in the water bath for 1 hour. Remove from bath, then place in fridge to cool.
For the Duck and Apricot Sauce, place the olive oil into a heavy based saucepan and heat until shimmering. Add duck necks/bones and cook until well caramelised.
Add carrot, onion and celery and sauté until very well caramelised. Deglaze with the madeira, then add the duck stock and apricot nectar.
Simmer over medium heat, constantly skimming the surface, until reduced by 2/3's, about 45 minutes. Strain into a clean saucepan. Place over low heat and whisk in the butter, a piece at a time, until combined. Season to taste and set aside in a warm place.
For the Apricot Gel, place apricot puree, apricot nectar and agar agar into a Thermomix and process for 6 minutes/95oC/Speed 4. Pour through a sieve into a shallow tray and allow to set in the fridge.
Once set, remove from tray and place into a blender with the cider and vinegar. Process until smooth, scraping down the inside of the jug several times. Pass through a fine sieve into a bowl and set aside in the fridge until needed.
For the Roasted Radicchio, place radicchio wedges onto a lined oven tray.
Combine the oil, vinegar, sugar and salt in a bowl. Whisk to combine. Drizzle over the radicchio then cook in the oven until caramelised, about 20 minutes. Set aside in a warm place.
To finish the duck, remove the duck breasts from their bags and pat dry with paper towel. Set a heavy based pan over a low heat and before the pan is hot, place the duck breasts in skin side down. Cook slowly to render out as much fat as possible, increasing and decreasing the heat as necessary to achieve a thin, crispy skin. Remove from heat and rest for 10 minutes before slicing in half lengthways.
To serve, place a portion of duck on each plate. Add a quenelle of apricot gel, 2 radicchio wedges and finish with the sauce.