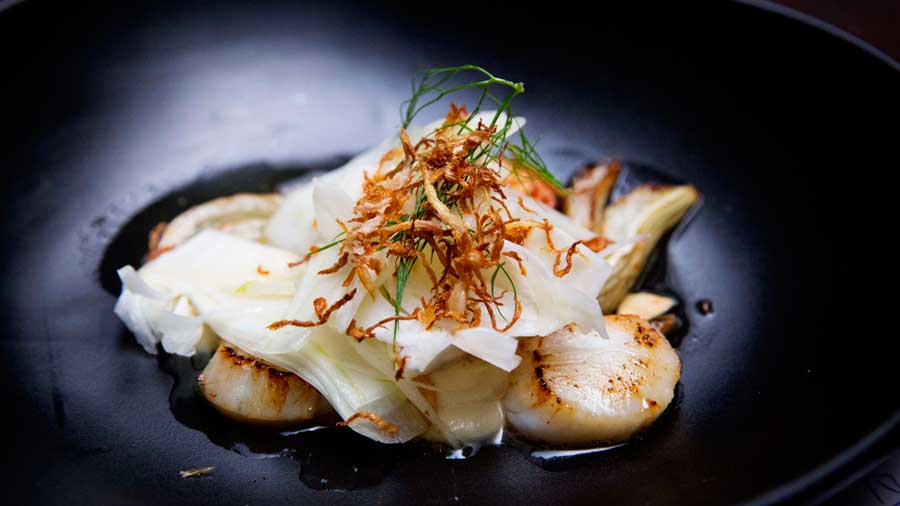 Steps
Preheat oven to 180C.
For the pickled fennel, combine ingredients in a small saucepan and bring to a simmer. Simmer for 5 minutes. Strain and set aside in fridge.
For roast fennel, combine fennel, olive oil and salt in a baking tray and bake until golden and tender, about 1 hour. Remove from oven and set aside.
For fennel and ginger puree, heat butter in a frypan over medium heat. Add shallots, garlic and ginger and sauté for 5 minutes. Add fennel and cook for 5 minutes then add chicken stock and simmer for 30 minutes until tender. Strain and reserve cooking liquid. Transfer strained fennel to a blender along with cream, vinegar and salt and pepper and process until smooth, adding cooking liquid a little at a time if required to thin out mixture to a thick cream consistency. Set aside.
For the prosciutto crumb, place prosciutto on a paper lined baking tray and bake for 20 minutes until crisp. Chop finely then combine with remaining ingredients. Set aside.
For fresh fennel, combine all ingredients in a small bowl. Toss well to coat. Set aside in fridge.
For the vinaigrette, whisk all ingredients together in a jug and set aside.
For fried ginger, heat grapeseed oil to 180C. Add ginger and fry until golden, about 1 minute. Set aside on paper towel.
Cook the scallops by heating a large frypan over high heat. Toss scallops in olive oil and salt and sear scallops for 30 seconds on each side. Remove from pan and keep warm.
To serve, spread fennel puree onto plates, add roast fennel followed by scallops. Add fresh and pickled fennel, some crumb and fried ginger and drizzle with vinaigrette. Top with fennel fronds.