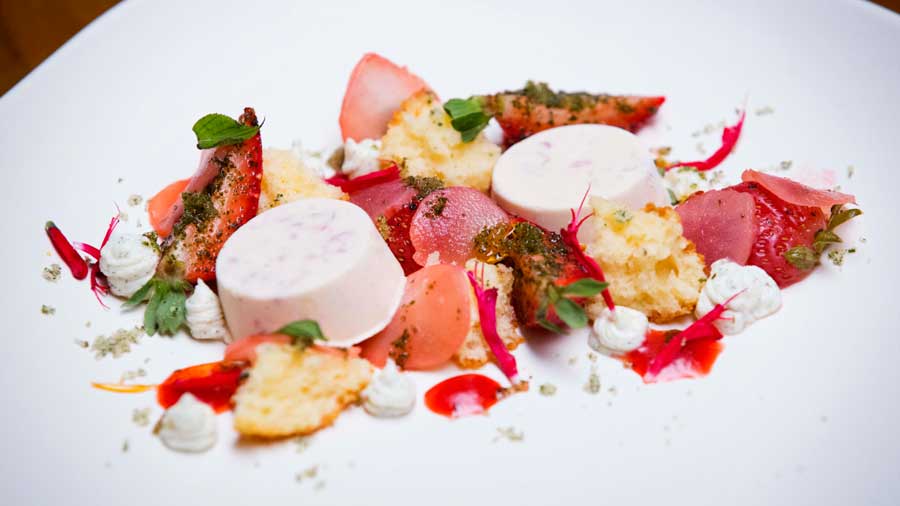 Steps
Preheat oven to 140C.
For the baked strawberries, combine all ingredients in a roasting tray and bake for 20 until dark, and very soft but still whole. Remove from tray and set aside.
For the parfait, beat egg and sugar over a pan of simmering water until thick and pale. Remove from heat and set aside to cool. Whip cream to stiff peaks. Fold through egg mixture along with pureed strawberries. Pour into 12 x 3.5 cm wide dome moulds and place in freezer to set.
Increase oven temperature to 180C.
For the grapeseed cake, beat eggs and sugar until creamy and thick. Add grapeseed oil in a thin stream and beat until incorporated. Gently fold through sifted flour and place in 6 X 60ml capacity ramekins. Bake for 15-20 minutes until golden & risen. Set aside.
For the strawberry sauce, cook strawberries in a saucepan set over a medium heat until very soft, about 6 minutes. Remove from heat and blitz with a stick blender. Set aside.
For the goats cheese, beat all ingredients until smooth. Transfer to a piping bag and set aside in fridge.
For the pineapple sage sugar, blitz sugar and leaves together in a small food processor until bright green. Set aside.
To serve, tear grapeseed cake and scatter on serving plates along with baked strawberries. Add 2 parfaits to each plate, some strawberry sauce, goats cheese, pineapple sage sugar and fresh strawberries. Top with fresh pineapple sage.