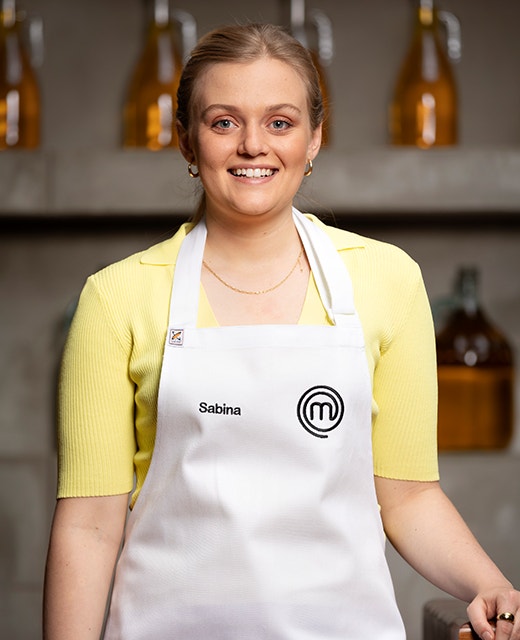 Sabina Newton
Tasmania, 21, Commerce Student
Proudly representing Tasmania in this year's Top 24, Sabina Newton hopes she can reap rewards in the kitchen, from a childhood spent outdoors fishing and cooking with her family.
The middle of three daughters, Sabina fondly recalls spending time with sisters Lydia and Poppy at their family shack at Coles Bay, located on the eastern coast of the island state. It was here she mastered scuba diving and would catch flathead with her grandfather every summer.
It's been a long journey to the kitchen for the commerce student, who as an eight-year-old watched in awe as Julie Goodwin took her place as MasterChef Australia's inaugural winner. With high hopes to join Julie and those who have won the coveted title, Sabina knows she has strengths in meat and seafood, but may need to work on her pastry and dessert skills to round out her dominance.
Joking that her three favourite ingredients to cook with are butter, butter and more butter, the 21-year-old dreams of owning her own sea to table restaurant in Tasmania. Home is where the heart is for this Tassie native and despite spending several years at the University of Melbourne, Sabina relished returning home and often frequents Italian haunt Templo and wine bar Lucinda in Hobart.
Boasting an extensive cookbook collection, Sabina's favourite recipes often come from cooking legend Josh Niland and she loves the principles of Salt, Fat, Acid, Heat by Samin Nosrat.
Sabina hopes to see international masters Nigella Lawson, Yotam Ottolenghi or Heston Blumenthal make their way into the kitchen this season. She admits that they represent her childhood and no matter where in the world she is, if she watches one of their cooking shows she instantly feels at home.