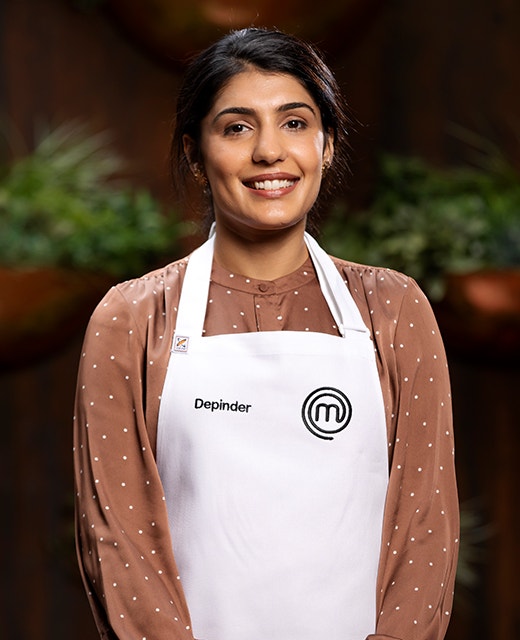 Depinder Chhibber
NSW, 29, Pharmacist
Born in New Delhi, Depinder Chhibber moved to Newcastle at the age of 11. Now based in Sydney, she still considers herself a Novocastrian, but her heart and soul remains in India.
Highly influenced by the women in her family, Depinder grew up watching her grandmother, mum and aunties cook, fascinating and inspiring her to cook from a very young age. This involvement has nurtured her style of cooking, learning many traditional recipes from her mother and her passion to cook from her father.
Her biggest supporter is her husband Gurkirat, who she married in 2018. Together they've had the opportunity to travel Australia and the world, bonding over a good meal and new scenery, with dining experiences often dictating destinations.
Having followed in her father's footsteps to become a pharmacist and currently studying for her Masters, Depinder enjoys her career. However, cooking is a passion that she can't ignore, with much of her free time spent reading recipes and daydreaming about cooking experiments.
Depinder is inspired by Indian and South East Asian flavours. As a self-taught baker, she adores cooking pastry and desserts.
Counting Gordon Ramsay, Donna Hay, Kirsten Tibballs, Kunal Kapur and Gaggan Anand among her kitchen idols, it's clear Depinder has taken inspiration from each of them.
A keen traveller in pre-COVID times, Depinder is always up for a holiday. Most recently she visited Nepal and completed the Everest Base Camp trek, a dream come true for her.
The ability to adapt, move fast and to take on board constructive criticism will stand her in good stead during her MasterChef Australia journey, as will her ability to multitask.
This unflappable cook hopes her time in the MasterChef kitchen will make Indian food more accessible, with her ultimate dream to write a recipe book showcasing Indian fusion cuisine.