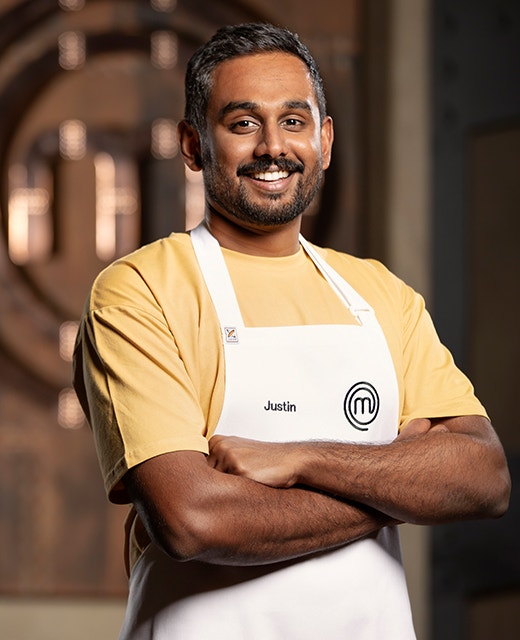 Justin Narayan
Western Australia, 27, Youth Pastor
Justin Narayan might look up to chefs like Gaggan Anand and Gordon Ramsay, but he doesn't need to look much further than his own family for inspiration.
Being the first generation born in Australia, Justin's Fijian and Indian heritage has always remained front and centre. His mum is among his biggest inspirations and Justin says she is hands-down the best cook he knows.
The eldest of three siblings, Justin has always been close to his parti (grandmother) and tata (grandfather), watching cooking shows together and cooking for them. With his tata having now passed, Justin takes comfort in having learnt from him the importance of living a life well, leaving a legacy and laying the groundwork for future generations.
Justin started cooking aged 13 and loves being inspired by the produce at hand to create memorable meals. He has always loved witnessing how his food can make people feel, often cooking for his fiancée Esther.
He travelled to India in 2017 and fell in love with its culture, history, people and of course, its food. While Justin's skills are versatile in the kitchen, he has a strong understanding of Indian flavours and will gravitate towards savoury over sweet.
Having worked as a youth pastor to help create a fun and safe community for teenagers, Justin has gone out on a limb to chase his culinary dreams, resigning from his job to fully commit. He has also put his Masters' study on hold to try his luck in the MasterChef kitchen.
Justin would love to one day have a food truck or restaurant featuring the Indian flavours he grew up eating, where some profits would go to helping feed and educate children living in the slums of India.
Having wowed the judges right off the bat with his version of his mum's chicken curry, Justin is confident in handling pressure and thinks his ability to find the fun in most situations will come in handy in the MasterChef kitchen.