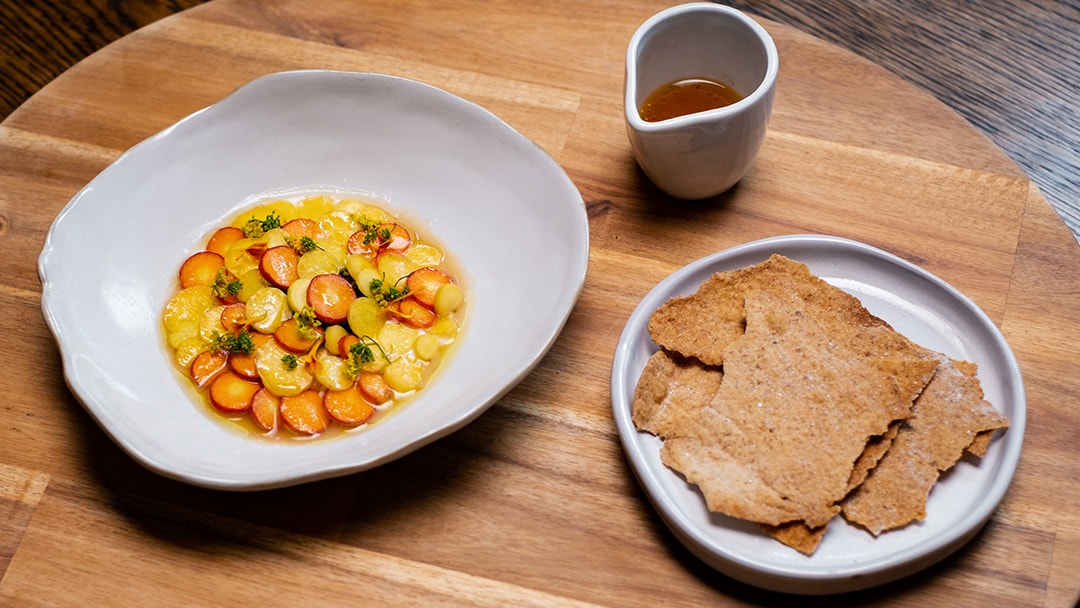 Steps
Preheat oven to 180C.
For the Rye Lavosh, place ingredients with a pinch of salt into a bowl and mix together to a smooth dough. Cover and set aside for 20 minutes. Dust the dough in flour then pass through a pasta machine to a thickness of 1mm. Cut into lengths place onto lined trays. Bake until brown and dry. Remove from the oven and allow to cool completely. Store in an airtight container until needed.
For the Pickled Carrots, place oil, shallot and garlic into saucepan over low heat. Cook until caramelised. Add spices and cook for a few minutes until fragrant. Add fennel and celery and cook until soft, about 3 minutes. Add vinegar, honey, salt and pepper to taste and simmer for 30 seconds. Strain liquid into a bowl. Wash carrots thoroughly, reserve the carrot tops and slice the carrot into thin slices. Place into warm pickling liquid and set aside in the fridge for at least 30 minutes. Drain well to serve.
For the Whipped Goat's Curd, blend cheese with preserved lemon and salt and pepper until smooth. Place in piping bag and set aside in the fridge.
For the Foraged Pesto, blanch warrigal greens and carrot tops in boiling water. Transfer to an ice bath to cool then drain and squeeze gently with paper towel. Finely dice and place into a bowl. Finely dice garlic, dill, fennel and radish and add to the bowl. Season with salt, lemon juice, honey and olive oil to taste. Set aside in the fridge until required.
To serve, pipe a circle of whipped goats curd into the base of each serving bowl. Add a spoonful of pesto in the middle. Cover with the lightly pickled carrots carefully until fully covered. Add garnishes on top and serve the rye lavosh on the side.