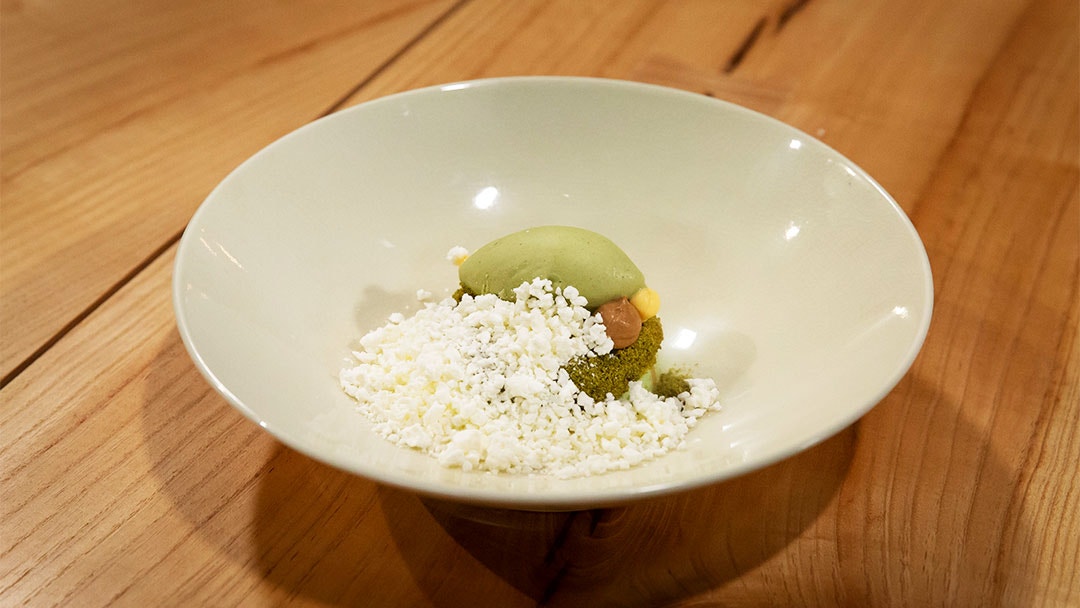 Steps
Prechill ice cream machine. Preheat oven to 170C.
For the Matcha Gelato, place all ingredients into a blender and process on high speed. Pour into a saucepan, place over medium heat and stir until mixture reaches 85C. Pass mixture through a fine sieve into a bowl and place over an ice bath to cool. Pour into ice cream machine and churn according to manufacturer's instructions. Place into the freezer until required.
For the Dulce Cremeux, microwave chocolate for 2 minutes in 30 second bursts, stirring in between bursts until deep golden. Place milk in a saucepan and cook over medium heat until just below simmering point.
Meanwhile, place egg yolks and sugar into the bowl of a stand mixer and whisk until pale and fluffy. Reduce speed to low and slowly stir in cornflour to make a paste.
Once milk has started to simmer, slowly whisk milk into the eggs. Return mixture to the saucepan and cook over medium heat. Whisk vigorously until mixture thickens.
Add the caramelised white chocolate and gelatine and blend with a stick blender until combined.
Transfer mixture into a deep baking tray and place into the fridge to chill and firm, about 35 minutes.
Remove from the fridge and whisk until smooth. Fold in the whipped cream and set aside in piping bag.
For the Pistachio Monte, place chocolate and pistachio paste into a microwave safe bowl and melt in the microwave in 30 second bursts, until melted and stir to combine. Add the sugar and drained gelatine and stir until dissolved. Allow to cool to about 35C then gradually fold in cream until well combined. Transfer to piping bag.
Place six 7cm diameter x 2cm high ring moulds onto a lined tray. Pipe mixture into moulds and level surface with an offset spatula.
Place into the freezer until solid, about 2 hours. Using a 3cm ring cutter, cut out the centres of the frozen pistachio monte to make a donut shape. Return to the freezer.
For the Lime Curd, place eggs and sugar into a bowl and whisk until fluffy.
Bring lime juice and butter to a boil in a saucepan then remove from the heat and whisk into the egg mixture.
Place bowl over a saucepan of simmering water, ensuring the base of the bowl does not touch the water.
Using a stick blender, blend until thickened and light in colour. Pass through a sieve and place into a piping bag. Set aside in the fridge to chill.
For the Salted Vanilla Caramel, place cream and vanilla into a saucepan and bring to a simmer.
Meanwhile, place sugar into a frypan and melt until deep brown in colour. Whisk in butter. Remove the vanilla bean from the cream then pour into the caramel and whisk to combine. Set aside.
For the Matcha Soil, place ingredients into the bowl of a stand mixer fitted with paddle attachment. Mix until a soft dough forms.
Spread out onto a lined baking tray and bake for 15-18 minutes.
Remove from the oven and set aside to cool. Transfer to a food processor and blend until fine.
For the White Chocolate Discs, place 100g white chocolate into a glass bowl and melt in microwave, in 20 second bursts, until just melted.
Stir until smooth and then add remaining 50g white chocolate and melt in microwave, in bursts until just melted.
Spread onto a sheet of acetate and allow to set. Cut out 6 x 7cm rounds. Set aside.
For the Lime Yoghurt Snow, place milk and gelatine into a small saucepan over low heat and stir, without boiling, until gelatine has melted.
Remove from the heat and add icing sugar, lime juice, zest, cream and yoghurt. Use a stick blender to combine.
Strain into a small siphon gun and charge twice with nitrous oxide, shaking well in between charges.
Siphon the mixture into a nitrogen bath and crush into a fine snow. Place onto a lined tray into the freezer.
To serve, pipe Dulce Cremeux onto White Chocolate Disc and cover with Matcha Soil. Place Pistachio Monte round into the centre of each serving bowl. Pipe some Lime Curd into the centre of the monte and cover with Salted Vanilla Caramel. Top with dressed White Chocolate Disc. Top with Matcha Gelato and add Lime Curd and Dulce Cremeux. Refresh Lime Yoghurt Snow in nitrogen bath and spoon around monte. Serve immediately.