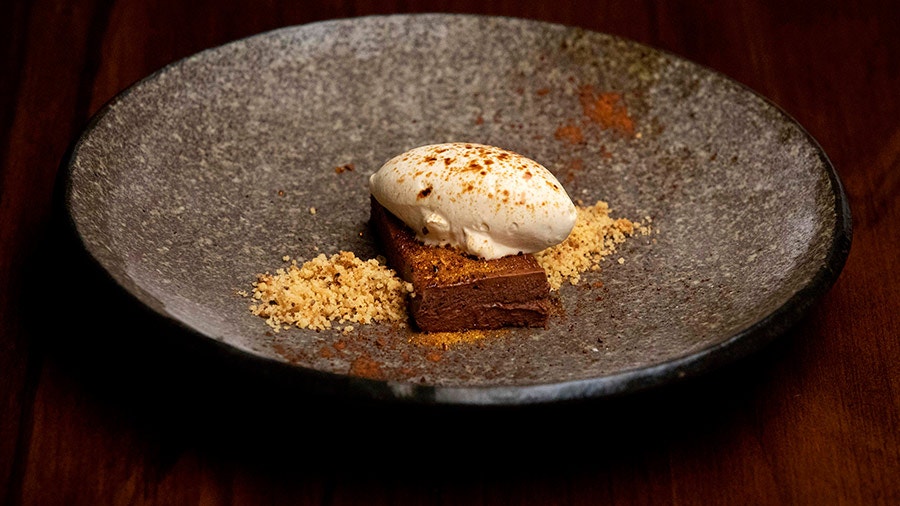 Ingredients
Chocolate and Coffee Semifreddo
Crystallised Coffee Praline
Steps
Preheat oven to 180C.
For the Chocolate and Coffee Semifreddo, place chocolate in a medium sized microwave safe bowl. Cook in microwave in 30 second bursts, stirring in between, until melted. Set aside to cool.
Bring a small saucepan of water to the boil then reduce to low heat and allow to simmer gently. Place eggs, egg yolk, sugar, coffee granules and salt in a medium heatproof bowl and place on top of saucepan of simmering water. Whisk continuously until the sugar has dissolved. Remove from heat.
Using an electric mixer, beat the mixture until pale and doubled in volume. Fold into melted chocolate in two batches.
Place cream in the bowl of an electric mixer fitted with a whisk attachment. Whisk briefly to soft peaks then gently fold through chocolate mixture, in three additions, until well incorporated.
Pour mixture into a paper lined 26cm x 10cm loaf tin and smooth the surface. Set aside, in freezer, until firm and ready to serve.
For the Coffee Crumb, place the flour, sugar, salt and coffee granules into a food processor and process until well combined. Add butter and process until mixture resembles coarse breadcrumbs. Add in beaten egg and pulse to a coarse crumb. Spread mixture evenly over a lined baking tray. Bake in oven until golden brown, about 15-20 minutes, stirring with a fork, every 5 minutes. Remove from oven and set aside to cool until serving.
For the Crystallised Coffee Praline, place sugar into a small frypan and place over low -medium heat. Melt until the sugar turns a dark amber colour. Remove from the heat and pour onto a paper lined tray. Immediately scatter the ground coffee over the surface whilst still hot. Set aside to cool down and harden.
Once set, break into shards and place in a small food processor. Blitz to a coarse crumb and set aside, in an airtight container, until serving.
For the Coffee Chantilly Cream, place all ingredients in a medium bowl and whisk until combined. Continue to whisk until soft peaks form and the coffee granules are well incorporated. Set aside, in fridge, until serving.
To serve, cut the Chocolate and Coffee Semifreddo into 6 rectangular portions and place in the centre of each serving plate. Sprinkle with a generous amount of Crystallised Coffee Praline and add some Coffee Crumb. Add a scoop of Coffee Chantilly Cream and garnish with a sprinkle of ground coffee.