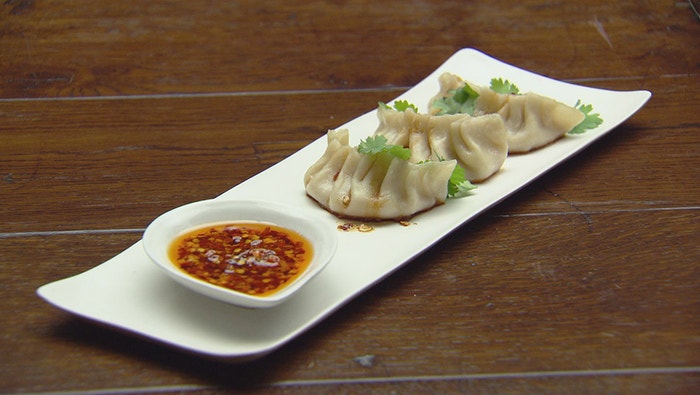 Steps
For the Dipping Sauce, place all ingredients into a bowl, stir to combine and set aside until required.
For the dumpling wrappers, place flour and salt into a medium bowl. Add 100ml cold water and combine ingredients until a rough dough forms. Turn out onto the bench and knead until smooth, approximately 10 minutes. Wrap dough in cling film and rest for 10 minutes.
Once rested, portion dough into 16 ball. Roll each ball into a small disc approximately 10cm in diameter to make a wrapper. Set aside.
For the chicken filling, place all remaining ingredients, except vegetable oil, into a bowl and mix to combine.
Spoon a level tablespoon of mixture onto each wrapper and brush the edges of each wrapper with a little water. Fold wrapper over the mixture and then starting from one end, pleat and press the edges together to seal and form a frill. Continue until all dumplings are made.
Place vegetable oil in a large frypan and place over medium heat. Add dumplings and cook until crisp and lightly browned. Add 1 cup of water, cover frypan with a lid and steam for 8 minutes or until dumplings are cooked.
Transfer Chicken Dumplings to a serving platter, garnish with coriander leaves and serve with the Dipping Sauce on the side.