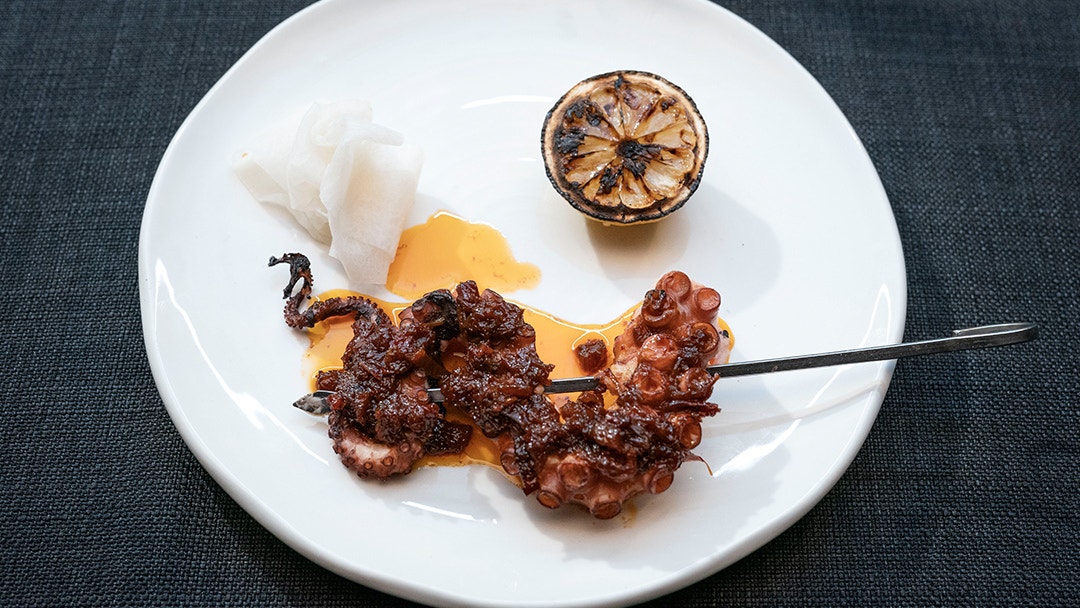 Steps
Preheat oven to 180°C.
For the Octopus, fill a large pot with water and bring to the boil.
Roughly chop onion and garlic and add to pot.
Add vinegar and peppercorns then add octopus. Return to the boil then reduce heat and simmer until tender, about 45 – 50 minutes.
Remove from the heat and set aside to cool slightly. Thread each tentacle onto a skewer. Cook over hibachi, BBQ or hot pan for 2 minutes on each side. Remove from heat and season with lemon and salt.
For the XO Sauce, place dried shrimp and scallops into separate bowls. Cover each with 1 ½ cups boiling water and set aside to soak for 1 hour. Reserve soaking liquid.
Place chicken wings onto a lined tray and roast in the oven until browned, about 30 minutes.
Place chicken stock and chicken wings into a medium saucepan and simmer until stock has reduced by half. Pour through a fine sieve into a bowl, pressing to extract as much liquid as possible.
Meanwhile, place vegetable oil into a medium saucepan and bring to 170°C.
Add shallots, mushrooms and garlic, stirring often, until lightly golden, about 2 minutes.
Add chillies, softened shrimp and scallops and cook until chillies have softened, about 2 minutes.
Reduce to heat to low. Add gochugaru and prosciutto and cook for a few minutes.
Add sugar, soy sauce, wine and strained chicken stock. Add 100ml of the reserved scallop and shrimp soaking water. Simmer for 40 minutes. Pass through a fine sieve into a saucepan. Set aside.
For the Pickled Daikon, peel daikon then using a Japanese lathe, mandolin or vegetable peeler, slice the daikon into ling thin sheets. Cut the strips into 2cm widths and place into a bowl. Pour pinakurat over the top and place into fridge to pickle for 30 minutes. Drain and rinse when ready to serve.
For the Charred Lemon, cut lemons in half and cook cut side down on hibachi or grill pan until charred.
To serve, place one charred octopus tentacle on each plate. Top with some XO Sauce, including the oil. Add some pickled daikon and garnish with charred lemon halves.