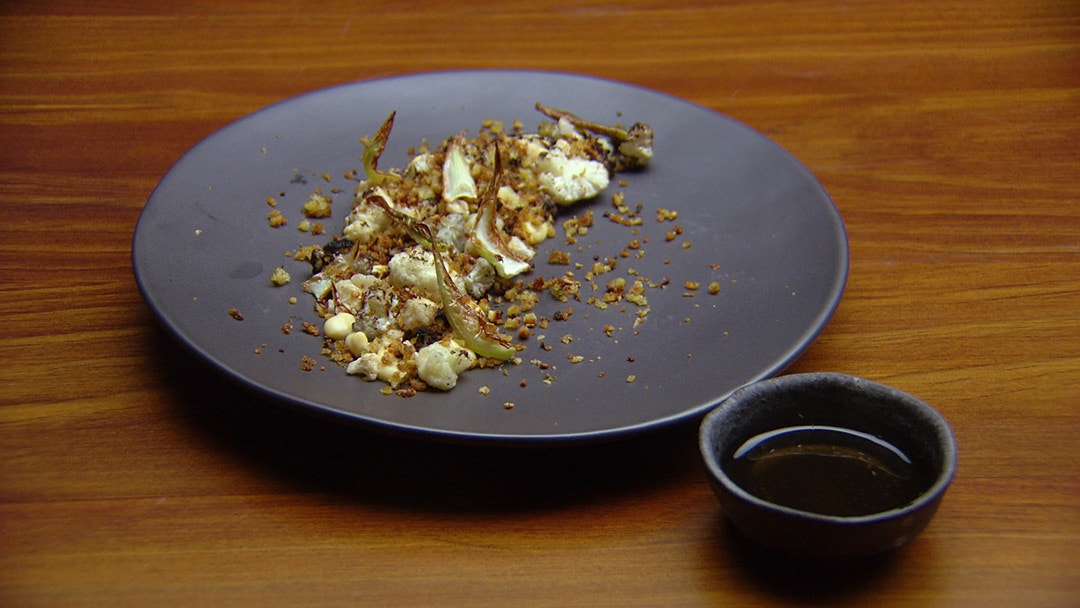 Steps
Prepare a hibachi grill, BBQ or grill pan. Preheat oven to 180C.
For the Pickled Grilled Cauliflower, bring a medium saucepan of water to the boil.
Place the vinegar and sugar into a small saucepan and bring to the boil. Remove from the heat and allow to cool slightly.
Add the chamomile and set aside to infuse for 5 minutes. Strain through a fine sieve into bowl. Add the smaller cauliflower florets and set aside for 10 minutes. Drain well, reserving the pickling liquid and set aside.
Place the medium florets into boiling water and refresh in cold water. Drain well to serve.
Place the larger florets onto the grill and cook until tender and charred. Remove from the heat and set aside.
For the Parmesan Custard, place the Parmesan into a small food processor blend until smooth. Add the eggs and cream and blend until just combined.
Place into a small saucepan and stir over the low heat until mixture reaches 70C.
Remove from the heat, season with salt and pass through a fine sieve. Transfer to a piping bag and set aside in the fridge.
For the Roasted Leaves, toss ingredients together on a small baking tray. Place into the oven and bake until golden, about 15 minutes. Remove from the oven and set aside.
For the Sage Breadcrumb, place the bread onto a baking tray and toast in the oven until dry and crisp, about 15 minutes. Break into shards and place into a food processor and pulse to a fine crumb. Set aside.
Place the butter in a large frypan and melt over low heat. Add the remaining ingredients along with the crumbs and cook, stirring, until golden and crisp. Remove from the heat and set aside.
To serve, arrange the Cauliflower elements onto each serving plate. Pipe some Parmesan Custard onto the plates and sprinkle with the Sage Breadcrumb. Garnish with Crispy Cauliflower Leaves and finish with a little reserved pickling liquid.