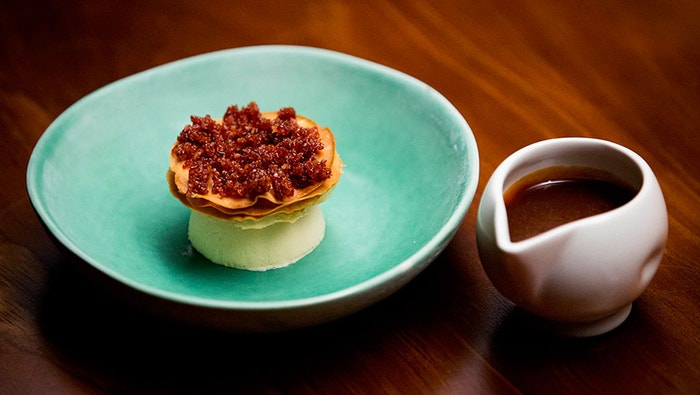 Steps
Preheat oven to 180C.
For the Parfait, place pancetta into a small frypan and fry over low to medium heat until crisp and fat has rendered out. Remove pancetta from pan and set aside for the Pancetta Praline on a paper lined baking tray. Set frypan containing rendered fat aside until needed.
Place egg yolks and sugar into bowl and whisk together to combine. Place the bowl over a saucepan of simmering water and continue to whisk the egg mixture until light and fluffy and doubled in volume. Fold in the rendered pancetta fat. Remove bowl from heat and set aside to cool.
Meanwhile, whip cream using electric mixer until soft peaks form. Gently fold the whipped cream gently into the cooled egg mixture until combined. Pour the Parfait mixture into 4 x 10cm dome moulds. Place moulds onto a baking tray and transfer to freezer until firm.
For the Brik Pastry, combine flour, 125ml water and oil in a bowl and whisk to a smooth batter, the consistency of thin cream. Set batter aside in fridge for 20 minutes to rest.
Place a medium saucepan three quarters filled with water on the stovetop over a high heat and bring to a boil. Reduce to a simmer and place a non-stick frypan over the saucepan.
Remove batter from the fridge. Using a pastry brush, spread a thin layer of pastry onto hot frypan in a circle shape larger than 10cm in diameter. Brush on another 2 – 3 layers until pastry has no holes or overly thin patches. Allow to cook for 4-5 minutes or until pastry is cooked through and begins to lift at the edges.
Lift the cooked pastry round from the frypan and transfer to a large baking sheet lined with baking paper. Repeat the process with remaining batter to yield 12 rounds of pastry.
Melt butter in the microwave on medium heat, or in a saucepan over low heat, and allow to cool.
Meanwhile, use a 10cm circle cutter to cut rounds from pastry. Brush each round on both sides with melted butter then place on a baking tray lined with baking paper. Place another sheet of baking paper on top of the pastry and place another baking tray on top to keep the pastry flat.
Place the trays in the oven and bake for 10-15 minutes until golden. Remove top tray and baking paper and stack pastries on top of each other. Set aside until needed.
For the Pancetta Praline, place sugar in a medium frypan over medium heat and allow to melt and caramelise until a dark golden colour.
Meanwhile, place the reserved cooked pancetta onto a baking tray lined with baking paper. Pour the caramel over the crispy pancetta and allow to set. When cool, break into shards, place in the bowl of a food processor and blitz to a fine crumb. Set aside until needed.
For the Caramel Sauce, place sugar in a medium frypan over medium heat and allow to melt and caramelise until a dark golden colour. Add 50g of the butter and half of the warmed cream and whisk until butter has melted and mixture is smooth. Add the remaining butter and cream to taste until desired taste and consistency is achieved. Allow sauce to simmer for 5 minutes until thickened. Transfer to a serving jug and set aside until ready to serve.
To serve, unmould parfaits and place one dome on to each of 4 serving plates. Place three layers of Brik Pastry in a stack onto each parfait. Sprinkle Pancetta Praline over he top of the pastry stack and around the plate. Serve with Caramel Sauce on the side.