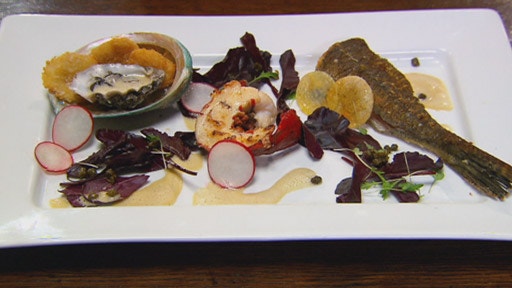 Steps
Preheat oven to 200°C fan forced.
Poach marron in boiling salted water for 3 minutes. Drain. Remove head, split tail in two lengthways, remove gastro intestinal tract. Melt butter in a frying pan over medium heat and cook marron tails, flesh side down for 2 minutes or until golden. Remove and set aside.
For oyster emulsion, heat oil in a small saucepan over medium heat, add eschalots and cook until translucent. Add wine and vinegar and simmer until mixture has reduced to 100ml. Just before serving add oysters and butter to reduction and blend with a stick blender until foaming.
Cut out cylinders from potato using a cookie cutter and slice thinly into rounds using the mandolin. Place on a well-oiled tray, brush lightly with oil and bake in oven until golden and crisp.
For deep fried abalone, heat oil in a deep fryer, wok or saucepan until 180°C. Remove abalone from shell, clean and trim and place in freezer until almost firm. Slice thinly, coat in seasoned egg, then panko crumbs. Deep fry until golden. Drain on paper towel.
Coat flathead tails in seasoned flour. Heat oil in a large frying pan over medium heat and cook flathead tails on both sides until skin is crisp. Transfer to oven and bake for 2-4 minutes until cooked through.
Deep fry capers until crisp, drain on paper towel.
Arrange flathead tail, marron, abalone, oysters in shell, bulls blood leaves, capers, radish and potatoes on the serving plate. Spoon over oyster emulsion to serve.
Notes
Preparation: 45 minutes Cooking: 1 hour