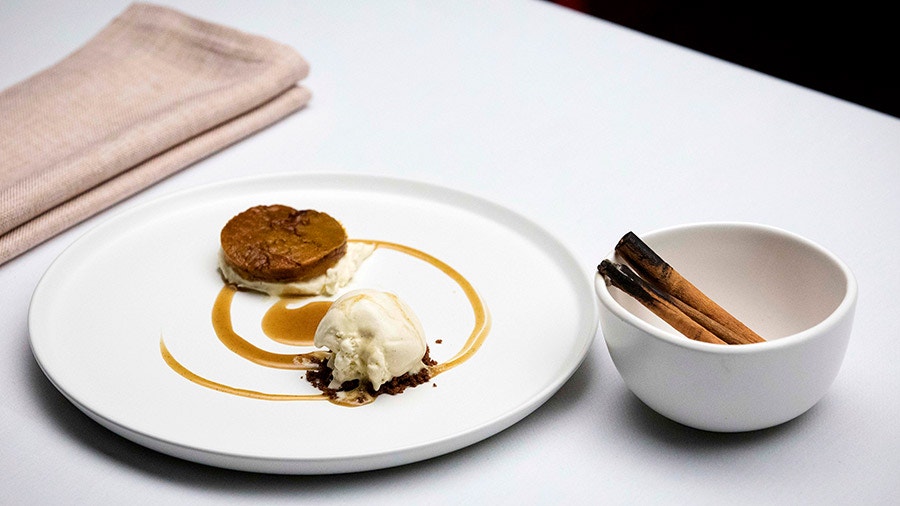 Ingredients
Vanilla Bay Leaf Ice Cream
Steps
Turn on ice cream machine to pre-chill. Pre-heat oven to 180C.
For the Vanilla Bay Leaf Ice Cream, place cream, milk and bay leaf in a medium saucepan, place over a medium heat and bring to a simmer. Remove from heat and allow to infuse for 10 minutes. Discard bay leaves.
Place egg, sugar and vanilla bean paste into the bowl of an electric mixer fitted with a whisk attachment and whisk until very light and fluffy. With motor running, add warm cream and milk mixture and whisk until combined. Return the mixture to the saucepan and place over a low heat. Stir continuously until mixture thickens and can coat the back of a spoon. Pass the mixture through a fine sieve into a medium bowl, and place over a large bowl of iced water to cool. When cold, place mixture into ice cream machine and churn according to manufacturer's instructions. Once churned, place ice cream into freezer to set.
For the Dutch Spiced Biscuit, sift all dry ingredients into bowl. Add butter and use fingertips to rub butter through the mixture, bringing together to form a soft dough. Roll the dough onto a sheet of baking paper to a thickness of 2mm. Place on a flat baking tray and bake until golden, about 15 minutes. Remove from oven, allow to cool, and crumble to a fine crumb. Set aside on the tray until ready to serve.
For the Pumpkin Galettes, line a medium baking tray with baking paper and set aside.
Slice pumpkin into 4cm wide lengths. Using a mandolin, slice each length into 2 mm strips and arrange in a single layer on the baking tray, to measure approximately 14cm x 20cm.
Brush the pumpkin layer with the melted butter. Sprinkle with 1 tablespoon of the brown sugar and ½ teaspoon of the cinnamon. Repeat these layers another 3 times, finishing with butter, sugar and cinnamon.
Cover the layered pumpkin with a sheet of baking paper and top with another baking tray to weigh it down. Place in the pre-heated oven for 40 minutes. Remove from oven and drain away any liquid. Replace the top tray and place a weight, such as a mortar and pestle, on top of the tray and set the galette aside to cool. Once cooled use a 6cm round cutter to cut circles from the galette and set aside until ready to serve.
For the Salted Butterscotch Sauce, combine brown sugar, cream and butter in a small saucepan and stir over medium heat until sugar has dissolved, butter has melted and a smooth sauce forms. Remove from heat, add salt to taste and set aside, keeping warm, until ready to serve.
For the Cream Cheese Mousse, place all ingredients in a small bowl and whisk until thickened and smooth. Transfer to a piping bag and set aside in fridge until ready to serve.
To serve, spoon Salted Butterscotch Sauce in a swirl on each plate, starting in the centre and swirling outwards. Pipe a 6cm round of Cream Cheese Mousse on one side of each plate and top with each with a Pumpkin Galette. On the opposite side, spoon a portion of Dutch Spiced Biscuit Crumb onto each plate and top with a scoop of Vanilla Bay Leaf Ice Cream.