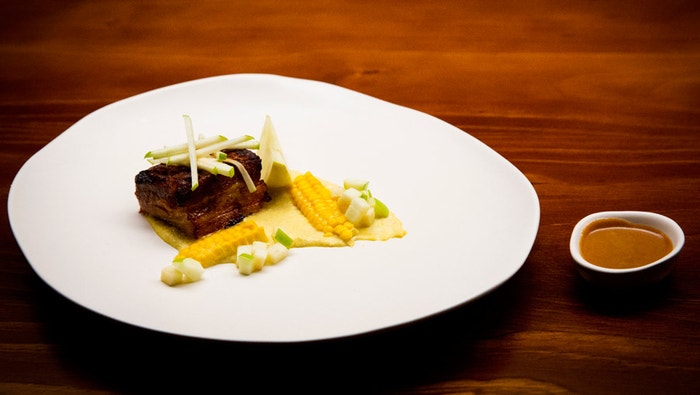 Steps
Preheat oven to 230C. Turn on pressure cooker to high.
For the Pork Belly, score the skin of pork belly and place into the pressure cooker along with rum, 300ml water, apple wedges and cinnamon stick. Seal and cook on high pressure for 30 minutes.
Remove pork, place onto a tray and roast until golden, about 20-15 minutes. Remove from oven and set aside to rest.
Meanwhile, for the Caramel Sauce, place remaining 300ml rum into a small pan and reduce over medium heat to a thick syrup. Add condensed milk, butter, cream and chopped date. Reduce until thickened then pass through a sieve and set aside.
For the Pickled Apple, place julienned and diced apple into a bowl with vinegar and set aside for 10 minutes. Drain and set pickled apple aside.
For the Poached Apple, bring a small saucepan of water to a simmer over low heat. Add apple wedges and cook until soft, but still holding shape, about 10-15 minutes.
For the Corn and Onion Soubise, heat butter in a fry pan over medium heat. Add onions and cook, stirring until softened but not browned. Set aside in a medium bowl.
Meanwhile, place corn cobs onto a plate and cook in the microwave until just tender, about 2-3 minutes. Slice 2 strips of the kernels off the cobs and set aside for plating. Slice the remaining kernels off the cobs and place into the bowl of softened onions. Cover bowl with cling film and insert the hose of a smoking gun. Light smoking gun chips and allow the bowl to fill with smoke. Remove smoking gun hose and seal the bowl tightly. Set aside to smoke for 15 minutes.
Uncover the bowl and transfer corn and onion into a food processor. Blitz until smooth then pass through a fine sieve, season and set aside.
To serve, portion Pork Belly into 4 pieces. Spread some Corn and Onion Soubise onto each plate and top with a portion of Pork Belly. Add some reserved slices of corn kernels and top with Pickled Apple. Serve Caramel Sauce on the side.