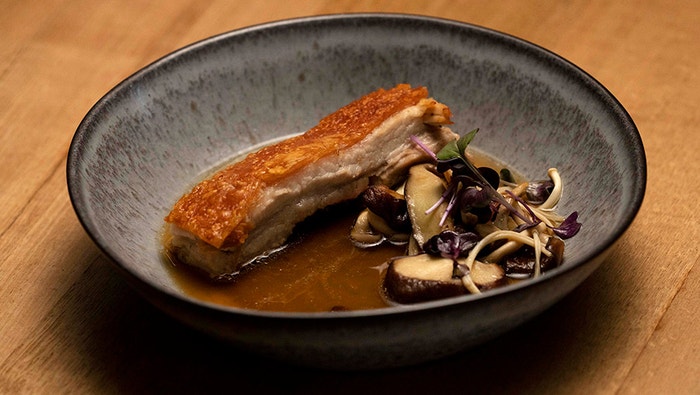 Steps
Preheat oven to 160C.
To prepare the Crispy Pork Belly, score the skin of the pork belly diagonally into 1cm squares.
Place the pork belly onto an oven tray and cover the pork belly with enough salt flakes to completely cover the skin. Place in oven and cook for 1 hour. Remove pork belly from oven and increase oven temperature to 240C.
Completely remove the salt crust that has formed on the pork skin and return the pork to the oven. Cook until skin is golden and crisp, about 30 minutes. Remove from the oven and allow to rest for at least 30 minutes, until serving.
For the Mushroom and Star Anise Broth, place onion and ginger into a small frying pan and place over high heat. Cook, turning occasionally, until charred. Transfer to the bowl of a pressure cooker and add remaining ingredients and 1 litre of water. Seal and cook on high pressure for 1 hour.
Release the pressure and strain broth through a fine mesh sieve into a clean saucepan. Season, cover with a lid and keep warm on the stove until serving.
For the Sauteed Mushrooms, place a large sauté pan over high heat. Add olive oil and garlic and sauté, without colouring, for 1 minute. Add shiitake mushrooms and cook until softened and lightly caramelised. Add oyster mushrooms and shimeji to the pan, cook until lightly caramelised and softened. Add enoki mushrooms and butter and stir to evenly coat all the mushrooms in butter. Season with salt then remove the pan from heat and set aside, keeping warm, until serving.
To serve, slice Crispy Pork Belly into 6 and place a slice into each serving bowl. Add some Sauteed Mushrooms and pour over the Mushroom and Star Anise Broth. Garnish with baby micro radish leaves.