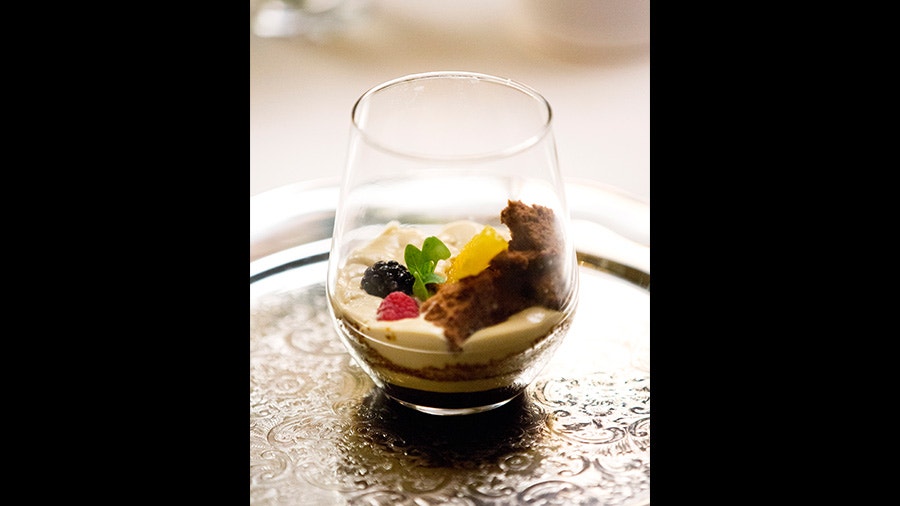 Steps
Preheat oven to 180C. Set an ice bath in a large bowl.
For the Coffee and Orange Jelly, bring 500ml of water of water to the boil. Add all ingredients and whisk to combine. Cool in a bowl placed over an ice bath. Strain into a clean jug and pour into 4 serving glasses. Set aside in fridge.
For the Crumb, place white chocolate onto a baking tray lined with baking paper and bake until golden, about 10-12 minutes. Set aside to cool completely. Transfer to a food processor with remaining ingredients and process to a crumb. Set aside.
For the Mousse, place a medium saucepan of water onto medium heat and bring to a simmer. Place egg yolks and sugar into a medium sized bowl and sit over the saucepan of simmering water. Whisk until light and fluffy then remove from heat and set aside.
Meanwhile, bring milk and vanilla to just below boiling point and add to the egg mixture, whisking continuously until combined. Add instant coffee and stir though. Return mix to saucepan and cook, stirring with a silicon spatula, until mixture thickens. Immediately remove from heat, strain a bowl and place over ice bath to cool.
Meanwhile, place cream into a stand mixer and whip to stiff peaks. Set aside.
Once egg milk mixture is cool, gently fold in mascarpone then fold in the whipped cream. Transfer to a piping bag and set aside in the fridge.
For the Custard, combine milk and cream in a small saucepan over low heat and bring to just below boiling point. Whisk eggs and sugar together in a bowl until pale then whisk into the saucepan of hot cream and milk. Stir gently with a silicone spatula until mixture thickens then remove from heat and stir in zest. Set over an ice bath to cool. Transfer to a piping bag and set aside in the fridge.
For the Sponge, place chocolate into a heatproof bowl and melt the microwave in 30-second bursts, stirring in between each burst until completely melted. Whisk in remaining ingredients. Transfer to a syphon gun and charge twice. Dispense sponge mixture into paper cups and cook each cup in the microwave for 1 minute. Allow to cool, then remove sponge from cups and tear into pieces. Cover with a clean tea towel and set aside.
To assemble, remove glasses from the fridge. Pipe Custard onto the Coffee and Orange Jelly layer. Add a layer of Crumb then a layer of Mousse. Top with a piece of the Sponge and garnish with orange segments, berries and micro basil.
To serve, place fruits for Fruit Confetti into a bowl of liquid nitrogen for 3 minutes then strain. Place fruit inside a clean tea towel and pound with rolling pin to break fruit apart. Spoon Fruit Confetti over trifles and serve immediately.