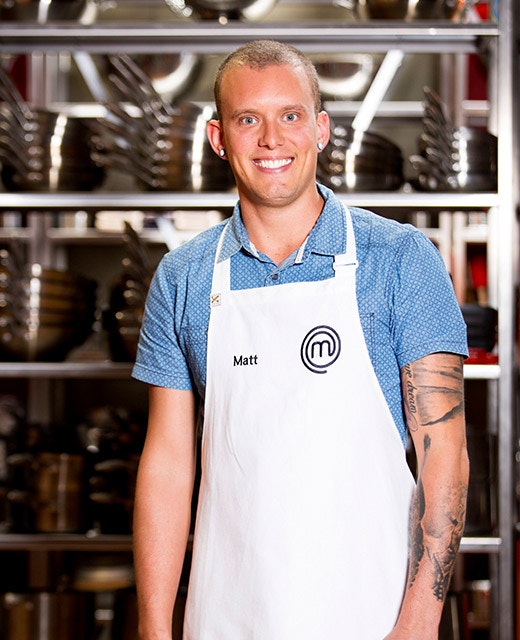 Matt Sinclair
Queensland, 27, Coffee Roaster
Growing up in Sydney's Sutherland Shire holds great memories for Matt, of a happy family life with mum, dad and elder sister.
Inspired in the kitchen by two strong women in particular, Matt credits his grandmother and late great grandmother Elise, in part, for his passion for food. The learning came full circle in 2014 when Matt catered for his grandmother's 80th birthday.
After a stint working in Canada as a bartender and landscaper, Matt chose to forgo a boys' trip to Central and South America, deciding instead on a solo trip to India. This passion for new experiences and to put himself out of his comfort zone to learn and achieve is also what brings him to the MasterChef Australia kitchen.
Returning to Australia from his travels, Matt followed his parents to Noosa, where while he worked in the hospitality industry and met his now wife Jess. Although the pair did not see eye to eye to begin with, after surviving a trip to Vietnam together early in their relationship, love won out and they are now each other's very devoted supporters, tying the knot in 2015.
Employed as a coffee roaster for two years, Matt admits that while he likes his job, he does not love it. In fact, Matt and his best mate are already planning their dream business: a food truck for markets and festivals serving simple, honest, street-style food with strong South East Asian influences.
Leaning towards savoury dishes, Matt loves Asian flavours and, since becoming a Noosa boy, he certainly knows how to do seafood justice. Inspired by various cooks who have passionately followed their dreams, some of his heroes include Jamie Oliver, Antonio Carluccio, Marco Pierre White and Anthony Bourdain.