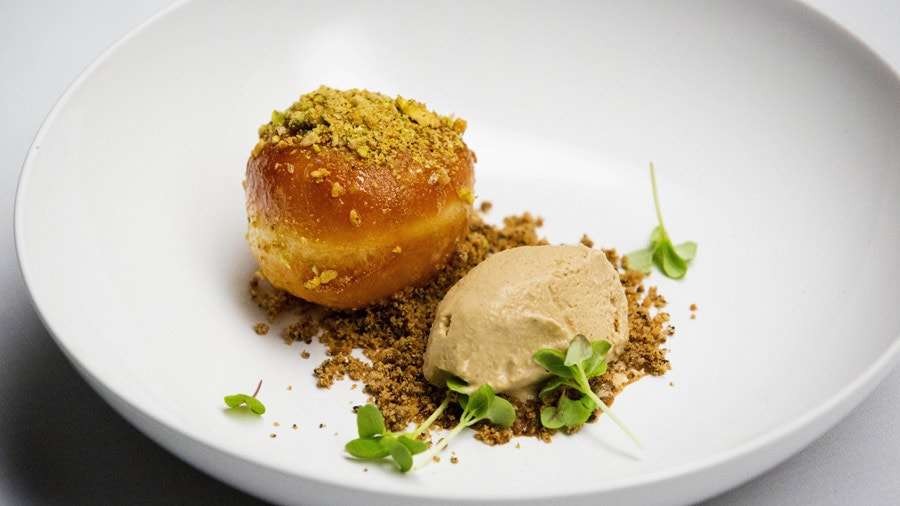 Ingredients
Hazelnut and Pistachio Crumb
Steps
Preheat oven to 180C. Turn on ice cream machine to chill.
For the Brioche Doughnut, place milk and sugar into a small saucepan and warm over low heat, stirring gently until sugar has dissolved. Remove from heat and sprinkle yeast over warm milk. Cover with cling film and set aside for 15 minutes to activate.
Transfer yeast milk mixture to a stand mixer fitted with a paddle attachment. Beat in egg and egg yolk until combined. Add half of the flour and continue mixing until dough begins to come away from the bowl, about 1-2 minutes. Add butter, 1 cube at a time, and continue beating to a loose and shiny dough. Add remaining half of flour and beat until combined.
Lightly flour a clean surface. Transfer dough onto surface and gently knead for 2-3 minutes. Transfer to a lightly greased large glass bowl, cover with cling film and set aside in a warm place until dough has doubled in size, about 1 hour.
Uncover and knock back dough by folding the dough back onto itself several times to remove air. Portion dough into 6 even portions and roll into balls. Place balls onto a paper lined baking tray until doubled in size again, about 1 – ½ hours.
Heat oil to 160C. Add doughnuts in batches, and deep fry until puffed and completely golden, turning over halfway to ensure even colouring, about 4-6 minutes. Remove from the oil and set aside on paper towel.
For the Latte Ice Cream, combine cream, milk and vanilla seeds in a small saucepan. Bring to a simmer over medium heat, careful not to boil.
Meanwhile, whisk yolks and sugar until pale. Pour ½ of the warm milk over the yolks and whisk to combine. Pour yolk milk mixture back into the saucepan of remaining milk mixture and add coffee. Place back over low heat and cook, stirring continuously, until slightly thickened. Strain through a fine sieve into a clean bowl and cool over an ice bath. Once cooled, transfer to pre-chilled ice cream machine and churn according to manufacturers instructions until set. Once set, transfer to the freezer until required.
For the Coffee Crumb, combine all ingredients in a food processor and blitz to a fine crumb. Spread crumb onto a paper lined baking tray and bake in the oven until golden brown, about 10-12 minutes. Remove from oven and set aside to cool.
For the Orange Curd, place egg yolks, sugar and juice in a medium heatproof bowl and whisk to combine. Microwave in 30-second bursts, stirring in between each burst, until thickened, about 3-4 minutes. Pass through a fine sieve and set aside to cool. Once cool, transfer to a piping bag and set aside.
For the Caramel Glaze, combine sugar with 2 tablespoons of water in a small saucepan and heat to a dark amber colour. Brush down the sides of the saucepan with a wet pastry brush to prevent crystallisation. Remove from the heat and add orange juice and zest and whisk to combine. Set aside, keeping warm.
For the Hazelnut Pistachio Crumb, place toasted hazelnuts, pistachios and salt into a food processor and blitz to a fine crumb. Set aside.
To serve, divide Coffee Crumb between plates. Use the piping bag to fill each Brioche Doughnut with some Orange Curd. Dip doughnuts into the Caramel Glaze then roll the top of each in Hazelnut Pistachio Crumb. Place a scoop of Latte Ice Cream to the side of the Brioche Doughnut. Finish with micro basil leaves and some gold dust.