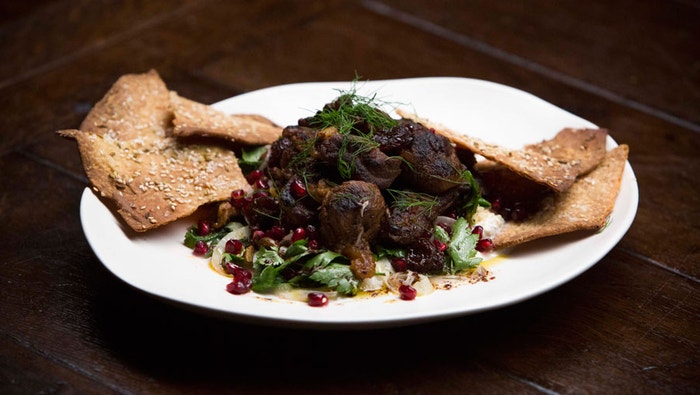 Steps
Preheat oven to 220C. Turn pressure cooker onto browning setting.
For the Flatbread, combine flour, 2 tbsp of the olive oil, salt, sugar and 1/3 cup warm water in a bowl and mix with hands to form a loose and elastic dough. Wrap in cling film and set aside to rest for 30 minutes.
Roll dough onto a 20cm x 20cm baking tray lined with baking paper. Sprinkle with salt, sugar, sesame and fennel seeds and drizzle with some olive oil. Cover with another sheet of baking paper and top with another baking tray to weigh down. Bake for 20 minutes then remove the top baking tray and top layer of baking paper and place back into the oven to cook until golden, about 4-5 minutes. Remove from oven and set aside to cool.
For the Braised Beef, place olive oil, beef, onion, garlic and dried herbs and spices to heated pressure cooker and cook until onion is soft and beef is browned, about 4-5 minutes. Add stock and tomatoes. Secure lid and cook on high for 30 minutes. Release pressure then remove beef and set aside in a bowl, reserving cooking liquid in pressure cooker.
Heat a large frypan over high heat. Add reserved beef and 250ml of the cooking liquid from the pressure cooker. Cook until liquid has reduced by ½ and beef has caramelised. Remove from heat and set aside to rest.
For the Smoked Eggplant Yoghurt, place eggplant over an open flame on the stove top and rotate until charred and soft on all sides. Remove from the heat and set aside to cool slightly. Peel eggplant and discard skin, then roughly chop flesh and place into a medium bowl. Add the yoghurt and mix until combined.
Cover bowl with cling film and insert the hose of smoking gun, ensuring bowl is completely sealed to prevent smoke from escaping the bowl. Light the smoking gun and allow bowl to fill with smoke then remove smoking gun hose and seal bowl tightly again with cling film. Set aside for 10-15 minutes. Remove cling film and stir in lemon juice, olive oil and salt, to taste. Set aside in fridge.
For the Tabouli, place all herb leaves and shaved fennel into a bowl in iced water. Place sumac, lemon juice, olive oil, grated garlic and salt and pepper into a separate medium sized bowl and whisk together. Drain herbs and fennel well. Add drained herbs and fennel to the bowl with the sumac lemon juice dressing and toss gently to coat.
To serve, spread some Smoked Eggplant Yoghurt onto serving plates. Top with Tabouli then some toasted pistachios and pomegranate seeds. Add some Braised Beef then tear up some Flatbread and place a few pieces around the plate. Garnish with fennel fronds.