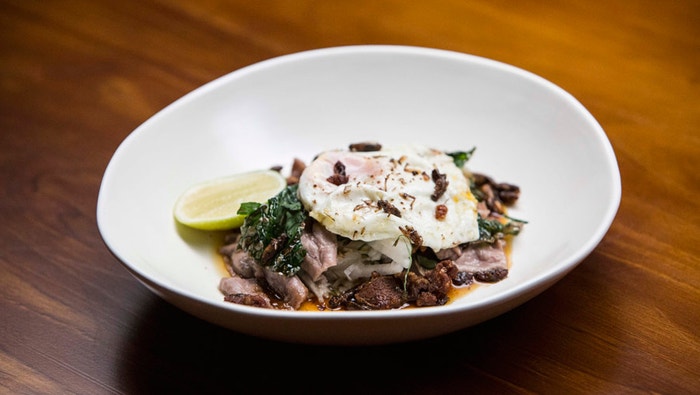 Steps
For the Citrus Cured Goat, place each cutlet between sheets of baking paper and use a meat mallet to flatten loin until paper thin. Place into a bowl and add lime juice, sugar and salt and gently toss to coat the goat meat thoroughly. Set aside in fridge for 12-15 minutes to cure.
For the Salad Dressing place sugar along with ¼ cup water into a small frypan over high heat. Allow sugar to melt and turn to a golden brown caramel.
Once golden brown, but not burnt, whisk in the tamarind purée and lime juice. Pour the dressing into a jug and set aside until needed.
For the Salad, prepare crickets by placing in a small saucepan and covering with grape seed oil. Place the saucepan on the stove top over low heat and allow to heat slowly to remove moisture. Cook for 5-6 minutes or until crickets are crispy, Remove crickets from oil and drain on kitchen paper. Reserve oil in saucepan for frying goat bones. Season the crickets well and set aside until needed.
Use a cleaver to chop the reserved goat cutlet bones into short lengths, about 3cm. Place the oil used for frying the crickets over a high heat till hot. Place the bones in the hot oil and fry until caramelised. Remove from oil and set aside until needed.
Heat a griddle pan over high heat. Char 3 of the betel leaves until crisp. Set aside on kitchen paper until needed. Shred the remaining 3 betel leaves, place in a small bowl together with julienned jicama and rambutans and toss together to combine.
Heat a large frypan over medium heat. Add the extra 1 tablespoon of grape seed oil and allow to heat. Crack the eggs directly into the fry pan and fry to your liking. Season with salt and set aside until needed.
To finish the Citrus Cured Goat, remove from the fridge and slice into paper thin slices.
To serve, spoon Salad Dressing onto 4 serving plates. Top with betel leaf Salad and scatter several fried crickets over the top. Divide slices of Citrus Cured Goat evenly between the 4 plates, along with several pieces of caramelised goat bone.
Break up charred betel leaves and scatter on top of the goat. Top with the fried egg.