All Recipes
Coconut Salt Squid, Pickled Chilli and Roasted Cauliflower, Pan Fried Okra and Coconut Caramel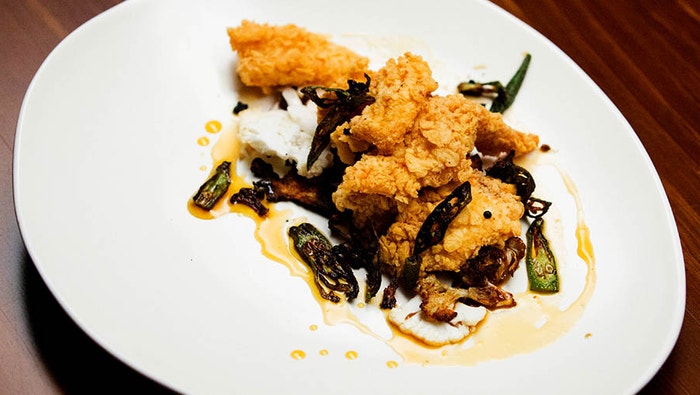 Steps
Preheat oven to 220C.
For the Pickled Cauliflower, combine vinegar, sugar and 125ml water in a small saucepan and place over low heat. Stir to dissolve sugar then add peppercorns and lemon myrtle. Remove from heat, add half of the cauliflower and set aside in fridge.
For the Roasted Cauliflower, place remaining cauliflower onto a paper lined baking tray and drizzle with oil. Season and roast for 15-20 minutes until browned and slightly charred around edges. Set aside, keeping warm.
For the Coconut Salt Squid, score body of squid at 5mm intervals then slice into 4cm widths. Slice tentacles into 4cm lengths. Set aside in fridge. Open coconut and reserve coconut water. Grate flesh from one half of the coconut and reserve ½ cup for the Coconut Caramel. Toast remaining half of the grated coconut in a small frypan until golden brown. Reserve half for the Coconut Caramel. Transfer remaining half of the toasted coconut to a mortar and pestle along with salt and sugar. Grind to a fine powder. Set aside in a large bowl.
For the Coconut Caramel, place sugar and 60ml water into a small saucepan, swirl gently to incorporate. Place pan over medium heat and cook until colour of maple syrup. Remove from heat, add 50ml reserved coconut water, reserved toasted and fresh coconut and stir through. Season with vinegar and salt, to taste. Set aside to infuse. Strain into a jug.
For the Pan Fried Okra, heat a large frypan until smoking. Add 40ml oil then okra and fry until brown. Remove from pan and drain on kitchen paper, season and set aside.
Heat frying oil to 180C.
To finish the Coconut Salt Squid, dip squid pieces into egg white, drain excess then dip into flour, ensuring squid is evenly coated. Fry squid, in batches, for 2 minutes until golden. Place in bowl with coconut salt and toss gently to coat.
To serve, divide drained Pickled Cauliflower between serving plates. Top with Roasted Cauliflower, Coconut Salt Squid then scatter with Pan Fried Okra. Drizzle with Coconut Caramel.