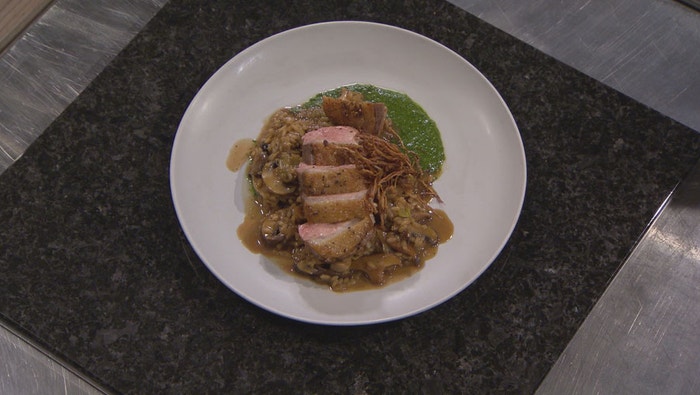 Steps
Preheat oven to 200C.
To cook the Caramelised Mushrooms, heat oil in a frypan over medium heat. Add all chopped mushrooms and cook, stirring occasionally, until caramelised, about 10-12 minutes. Season to taste and set aside.
To make the Duck Stock, heat a large pot over medium heat. Add duck bones and cook until browned. Add porcinis, thyme, oregano, bay leaf and madeira. Simmer until slightly reduced, about 3-4 minutes, then add chicken stock and bring to the boil. Reduce heat and simmer for 15 minutes. Strain through a fine sieve, return to pot and simmer on low heat until required.
Meanwhile, to make the Risotto Base, heat 40g of the butter and olive oil in a large pot, add garlic and leeks and sauté until transparent. Add Arborio rice and stir through for 2 minutes to coat the rice. Add wine and simmer for 2-3 minutes, stirring occasionally.
Gradually add the duck stock to rice pot, one ladle at a time, allowing the rice to absorb the stock before each new addition. Turn risotto to low heat and continue to add stock, stirring continuously, until risotto rice is cooked and stock has been absorbed. Substitute additions of stock with water if flavour is too strong. Remove from heat and stir through remaining butter, parmesan and season to taste. Stir through caramelised mushrooms and set aside, keeping hot.
Meanwhile, to cook the Duck Breast, season duck breast and place skin side down into a cold frypan. Place frypan on medium heat until skin is crisp, about 5 minutes. Turn duck over to seal, flip back to skin side down, place onto a tray and into the oven for approximately 8-10 minutes. Reserve pan with duck fat to cook the Crispy Enoki Mushrooms. Remove from oven and set aside to rest.
To make the Crispy Enoki Mushrooms, place frypan with reserved duck fat over medium heat and add enoki mushrooms. Cook until crisp, remove from heat and place onto paper towel to drain, season and set aside.
To make the Salsa Verde, place all ingredients into a food processor and blitz until smooth. Season to taste and transfer into a squeeze bottle, set aside.
To serve, place risotto onto plate, top with slices of duck breast and drizzle salsa verde around risotto. Garnish with crispy enoki mushrooms.