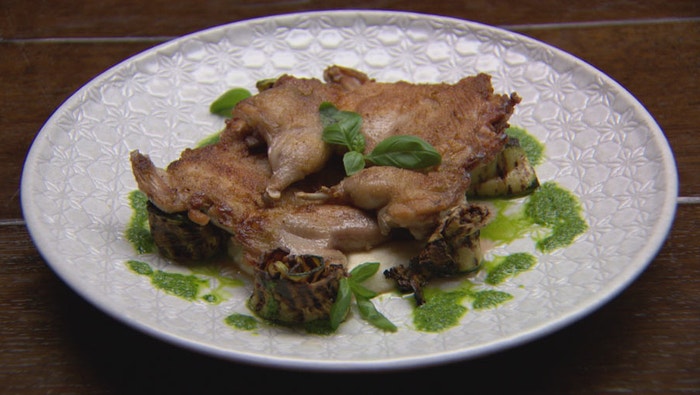 Steps
For the Celeriac Puree, heat butter in medium frypan over medium heat. Add celeriac and sauté for 3 minutes until soft. Once soft, add milk and nutmeg. Reduce heat to low, cover and simmer until soft and creamy. Transfer to a blender then add cream and season. Puree until smooth then pass through a fine sieve. Set aside, keeping warm.
For the Basil Oil, heat a small saucepan of water over high heat. Prepare a bowl of iced water and set aside. Blanch basil leaves in boiling water for 20 seconds until bright green, then remove and plunge into the iced water. Drain and dry basil leaves thoroughly on paper towel. Place into a food processor. With the motor running on full speed, pour grapeseed oil into the food processor in a slow and steady stream until emulsified with the basil leaves. Add in Dijon mustard, to taste. Set aside.
For the Zucchini, heat a griddle pan over high heat. Place zucchini slices into a bowl with oil, season, and toss to coat completely. Lay slices onto the hot griddle pan, turning over to achieve a char pattern on both sides. Roll zucchini into cylinders and set aside.
For the Quail, heat a frypan over medium high heat. Place quail into a bowl with oil, season and toss to coat evenly. Place into the hot frypan, skin side down, and cook until skin is crisp and golden, about 3 minutes. Turn quail and cook for a further 2-3 minutes until breast meat has some slight resistance. Remove from pan and set aside to rest.
To serve, divide Celeriac Puree between serving plates. Place some of the rolled Zucchini around Celeriac Puree. Top each with 2 Quails. Dress with Basil Oil and garnish with some basil leaves.