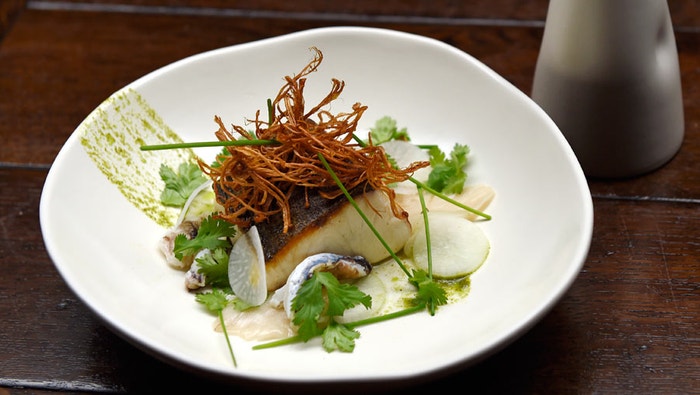 Steps
For the Blue Swimmer Crab broth, heat 1 tablespoon of the oil in large saucepan over medium heat. Add crab, fennel seeds and cumin seeds and cook for 4-5 minutes, until deep red and caramelised. Set aside until needed.
Using browning setting on pressure cooker, add remaining tablespoon of oil, ginger, galangal, lemongrass, red chillies, garlic and coriander roots and sauté for 2 minutes. Add crab shells and enough water to cover. Seal pressure cooker with lid and cook on high pressure for 20 minutes. Alternatively, remove crab from saucepan, sauté ingredients and return shells to pan and cover with water. Cook for 1 hour.
Once cooked, transfer to a powerful blender and blitz until fine. Strain twice through a fine sieve lined with muslin.
Place strained broth into a clean saucepan, season with lime juice and fish sauce and adjust seasoning if required. Set aside, keeping warm until needed.
For the Pickled Mushrooms and Daikon, place all ingredients in a bowl and stir gently to combine. Set aside in fridge to pickled for 10 minutes.
For the Herb Oil, blanch herbs in boiling water for 10 seconds then refresh in a bowl of iced water. Dry thoroughly and place into a food processor. With motor running slowly add grape seed oil until oil and herbs have emulsified. Add the lime juice and salt to taste and pulse to combine. Set aside until needed.
For the Crispy Enokis, place enokis in a small saucepan and cover with 1 cup cold grape seed oil. Place saucepan over medium heat and allow oil to heat, frying mushrooms until golden. Drain on kitchen paper, season with salt and set aside until needed.
For the Kingfish, place a large fry pan over medium heat. Season fish with salt and oil and place into pan, skin side down, pressing gently for 1 minute then cook for a further 7 minutes on skin side. Turn fillets and cook for 2-3 minutes on the other side until almost cooked through. Remove from pan and rest for 2 minutes before cutting into 4 pieces.
To serve, use a pastry brush to brush a thin layer of Herb Oil across 4 serving plates. Place one piece of Kingfish in the centre of each plate. Arrange Pickled Mushrooms and Daikon around the Kingfish and top the fillet with a small handful of Crispy Enokis. Garnish with chive batons and coriander leaves. Pour warm Blue Swimmer Crab Broth into individual serving jugs and serve on the side.