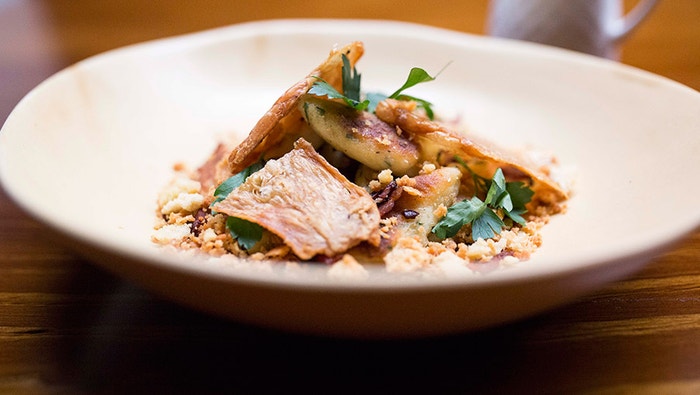 Steps
Preheat oven to 180C.
For the Chicken Jus, remove skin from chicken legs and set aside until required. Chop chicken legs into small pieces.
Heat a medium frypan and add chicken pieces, fry until caramelised. Add bacon and fry until brown. Add 1 litre of water and continue cooking until reduced by 2/3, about 20 minutes.
Once reduced, add lemon rind, parsley and season to taste. Set aside, keeping warm.
For the Breadcrumbs, line a baking tray with baking paper. Place flour and salt in a bowl with 110ml of water and mix to a soft dough. Add some flour if dough is too wet. Place dough onto a floured board and knead until smooth, then roll out dough to 1cm thick.
Heat oil in a large frypan, add flatbread and fry until puffed and golden on both sides. Remove from oil and drain on paper towel.
Tear bread up into small pieces, place into a food processor and blitz to a coarse crumb. Transfer breadcrumbs to lined baking tray and drizzle with oil. Place into the oven and bake until golden. Use a fork to stir crumbs every 2 minutes to ensure even colouring. Once golden, remove from oven, season and set aside.
For the Chicken Skin, line a baking tray with baking paper. Spread reserved chicken skins out flat onto tray and drizzle with oil. Season with salt and pepper and cover with a second layer of baking paper. Weigh down with another baking tray on top and bake in oven until crisp, about 20 minutes. Set aside.
For the Gnocchi, set a large pot of salted water over high heat and bring to the boil.
Place potatoes in a glass bowl with ½ a cup of water and cover with cling film. Microwave until just soft, about 5 minutes.
Drain potatoes and pass through a drum sieve into a bowl. Add flour, egg yolks, chopped parsley, salt and pepper. Gently bring together to combine and form a dough.
Portion dough into 4 pieces and roll out into 2cm wide logs. Chop into 5 pieces and add to pot of boiling water. When gnocchi rises to surface, remove and strain. Repeat this process until all gnocchi is cooked.
Heat 2 tbsp oil in a frypan then add gnocchi. Fry gnocchi, rotating pieces until all sides are golden and crisp. Remove from heat and set aside, keeping warm. Keep frypan on the heat and add bacon. Cook until brown and crisp then remove from pan and set aside on paper towel.
To serve, strain Jus into a clean jug. Divide Gnocchi between plates. Scatter Breadcrumbs and Crispy Bacon around the gnocchi and place some Chicken Skin in between gnocchi pieces. Finish with a drizzle of Jus and some chopped parsley.