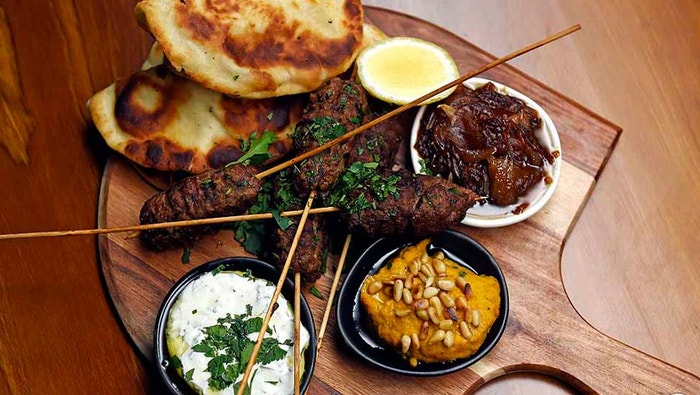 Steps
For the Onion Jam, heat oil in a small frypan. Add onion and cook, stirring continuously until caramelised. Add remaining ingredients and stir to combine. Reduce heat to low and simmer until liquid has slightly reduced, about 3 minutes. Season to taste and set aside.
For the Mint and Coriander Yoghurt, combine all ingredients in a bowl and mix well. Season to taste and set aside in the fridge.
For the Carrot and Parsnip Hommus, place a small frypan over medium heat. Add cumin and fennel seeds and toast off until fragrant, about 1 minute. Remove from heat and grind in a mortar and pestle.
Place frypan back onto the heat and add pine nuts. Toast off until just coloured, about 1 minute then remove from heat and set aside.
Heat oil in a frypan. Add carrot and parsnip and fry until slightly caramelised. Remove from frypan and transfer to a food processor, add half of the reserved toasted ground spices and reserve other half for the Kofta. Add chickpeas, garlic, lemon juice and blitz to a smooth puree. Adjust seasoning to taste then finish with toasted pine nuts. Set aside.
For the Lamb Koftas, place all ingredients into a bowl and mix well to combine. Cover and set aside in the fridge for 10 minutes.
Meanwhile, place wooden skewers into a tray of water to moisten.
Remove Lamb Kofta mix from fridge and portion into 12 pieces. Shape into 10cm lengths and gently push onto pre-soaked skewers.
Heat a griddle pan over medium heat then add Lamb Koftas in batches and fry on all sides, until almost cooked through. Remove from pan and set aside.
For the Flatbreads, combine all ingredients in a bowl and bring together with hands. Transfer to a lightly floured bench and knead for 5 minutes. Add some flour if dough is too wet. Roll dough into a ball and wrap in cling film. Set aside in fridge to rest for 10 minutes.
Remove dough from fridge and portion into 8 small balls. Lightly flour a bench and roll out dough balls into thin discs 5mm thick.
Heat 1 tbsp oil in a frypan then fry breads until golden and flaky on both sides. Set aside on paper towel.
To serve, place 3 Lamb Kofta in middle of plate, surround with Flatbread, Onion Jam, Mint and Coriander yoghurt and some Carrot and Parsnip Hummus.