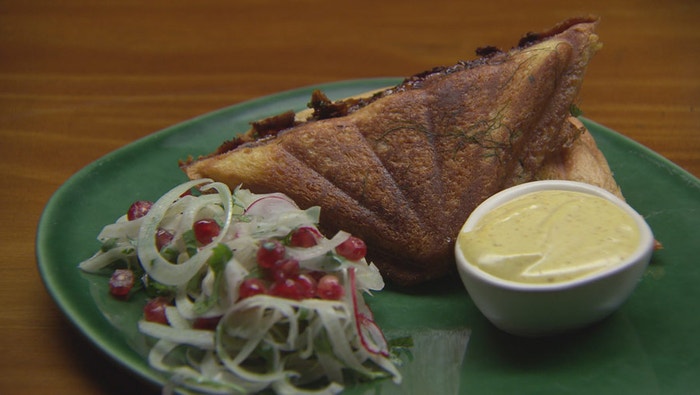 Steps
For the Spiced Mince, heat a large frypan until smoking. Add the olive oil and the onion and fry until onion until softened. Add remaining ingredients and cook until well browned. Remove from heat and set aside until needed.
For the Curry Mayonnaise, whisk egg yolk with mustard, lemon juice and crushed garlic in a small bowl until foamy. Drizzle in oil in a steady stream while whisking continuously. Then whisk for a further 3 – 4 minutes or until mixture has thickened. Whisk in the curry powder and season to taste. Set aside in fridge until needed.
For the Fennel Salad, combine fennel, coriander, parsley, radish and pomegranate seeds in a large bowl and set aside. For the dressing, whisk lemon juice, olive oil and salt to taste in a small bowl and set aside until needed.
For the Caramelised Fennel, heat a large frypan until smoking. Add oil and fennel and stir until fennel begins to caramelise.
Once fennel begins to brown, sprinkle with sugar and verjuice. Cook, stirring continuously, until slightly caramelised. Remove from heat and season to taste.
To make the jaffles, first heat a jaffle iron. Spread slices of brioche generously with butter. Spread unbuttered sides with mayonnaise, then top the mayonnaise side with a little caramelised fennel, a quarter of the mince mixture and the chopped herbs. Top with another slice of brioche and place sandwich into jaffle iron and toast until golden. Repeat with remaining ingredients.
To serve, cut each jaffle in half and arrange 2 halves on each plate. Dress the Fennel Salad with the dressing and toss to coat. Serve Fennel Salad on the side of each plate with a little extra Curry Mayonnaise.