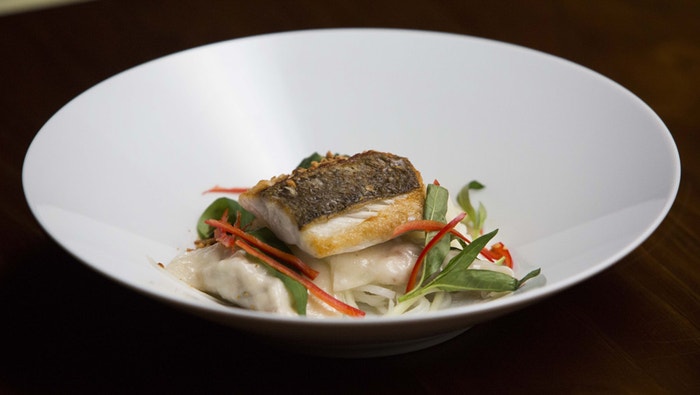 Steps
To prepare the snapper, remove the fillets from the snapper and set aside. Remove head and tail and discard. Chop the spine and large bones into small pieces and reserve for the Broth. Trim the fillets to neaten and cut away any belly fat or sinew. Cut two 150g pieces from the thick head end of each fillet and set aside for the Pan Fried Snapper. Chop the remainder of the fillets into a large dice and set aside for the Snapper Dumplings.
For the Broth, heat 20ml oil in a large saucepan over a medium high heat. Add Vietnamese mint leaves and chilli and fry for 2 minutes until fragrant. Add chopped fish bones and cook until lightly browned, about 5 minutes. Add enough water to cover and bring to a simmer. Reduce heat and simmer the stock for 20-30 minutes.
Season the stock with lime juice, sugar and salt to taste and strain through a fine sieve. Place the strained broth into a clean saucepan and set aside, keeping hot, until needed.
For the Snapper Dumpling filling, place reserved chopped tail end snapper fillet into a food processor along with peanuts, longan and Vietnamese mint and salt. Pulse until mixture is minced together. Cover and set aside in fridge until needed.
For the Snapper Dumpling wrappers, combine flour, water, oil and a pinch of salt in a medium bowl and bring together with your hands to form a dough. Transfer the dough to a lightly floured work surface and knead into soft and elastic. Wrap the dough in cling film and set aside in the fridge to rest for 30 minutes.
Once dough is rested, bring a large pan of salted water to the boil.
Roll dough, in batches, through a pasta machine, working through to the thinnest setting. Lay dough sheets across a lightly floured bench. Using an 8cm round cutter, cut 12 rounds and place 1 tablespoon of filling in the centre of each round.
Wet edges lightly with water and fold each round into a half moon shape and press together to seal. Boil dumplings, in batches, for 3 minutes, until cooked through. Remove from water and set aside on a baking tray lined with baking paper, keeping warm, until ready to serve.
For the daikon noodles, use a mandolin to juienne the daikon into long, thin strips and set aside in cold water until needed.
To cook the Pan Fried Snapper, place a large fry pan over medium high heat and add the oil. Season the skin with salt and place into the hot frypan, skin side down, until skin is crisp, about 4 minutes. Turn the fillets over and immediately remove pan from heat. Allow snapper to rest, in the pan, until needed to serve.
To serve, drain Daikon Noodles and pat dry with kitchen paper. Place an equal amount of noodles into 4 shallow serving bowls. Place 3 Snapper Dumplings in each bowl and top with a piece of Pan Fried Snapper. Garnish with shredded Vietnamese mint, chopped peanuts and julienned red chilli. Transfer hot Broth to a serving jug and pour around fish immediately before serving.