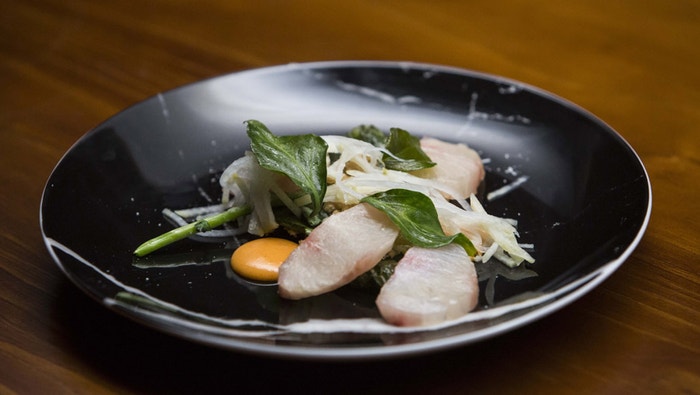 Steps
For the Cured and Smoked Cobia, combine salt, sugar and matcha powder in a sous vide bag. Add cobia and massage the cure mixture over cobia. Vacuum seal the bag to remove air. Set the sealed bag aside for 45 minutes to cure.
Once the fish has cured, remove the fish from the bag and slice thinly. Place the slices in a medium glass bowl and cover tightly with two layers of cling film. Prepare a smoking gun with applewood chips. Pierce the cling film with the nozzle of the smoking gun. Ignite the gun and allow the bowl to fill with smoke. Remove nozzle and cover the bowl tightly with another layers of cling film to seal. Set the bowl aside for 10 minutes to smoke. Uncover and set aside in the fridge until needed.
For the Gochujang Custard, place egg yolks, gochujang, flour and sugar in a medium bowl and whisk until well combined.
Meanwhile, place camel milk in a small saucepan over medium heat. Once the milk is hot, whisk into the egg yolk mixture until smooth. Return the mixture to the saucepan and place over a low heat. Whisk the custard continually until thickened and coats the back of a spoon. Season the custard with the vinegar and salt to taste. Transfer the custard to a piping bag and set aside to cool until needed.
For the Pickles, combine vinegar, sugar and salt in a small saucepan and place over medium heat, stirring until sugar has dissolved. Once dissolved, reduce heat to low, add julienned kohlrabi and simmer in the pickling liquid for 3 minutes. Remove from heat and add the mushroom leaves. Set aside to pickle until needed.
For the Fried Kohlrabi Leaves, heat grapeseed oil in a medium saucepan to 180C.
Whisk the egg white in a wide shallow bowl until foamy. Place flour and salt in another wide shallow bowl and mix to combine. Dip the kohlrabi leaves into egg white and then the seasoned flour and gently shake off the excess. Fry kohlrabi leaves in the hot oil until crisp and bright green, about 1 – 2 minutes. Drain on kitchen paper and season to taste. Set aside until needed.
To serve, place a handful of the Pickles into the centre of each serving plate. Arrange 4 – 5 pieces of Cured and Smoked Cobia around the edge of the Pickles. Pipe 3 dots of Gochujang Custard, about the size of a 20 cent piece, around the base of the Pickles. Top with several Fried Kohlrabi Leaves.