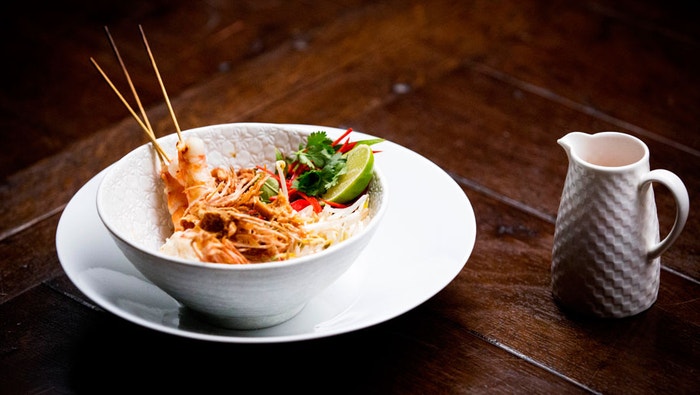 Steps
For the Prawn Broth, make a paste by placing chillies, ginger, garlic, eshallots, lemongrass, coriander roots and shrimp paste in a food processor and process to a fine paste.
Heat a large saucepan over medium high heat and add the oil. Add the paste, the prawn heads and the tamarind and fry for 5 - 6 minutes, or until aromatic.
Add the stock, water, tomatoes and kaffir lime leaves, reduce heat and simmer for 30-40 minutes. Once cooked, season with the fish sauce, lime, lemon and sugar to taste and continue to cook for a further 5 minutes or until the palm sugar has dissolved. Strain the broth through a fine sieve and set aside, keeping warm until needed.
For the Prawn Dumplings, firstly devein the prawns. Place half of the prawn meat with all remaining ingredients into a food processor and blitz until finely minced. Add remaining 5 prawns and pulse so that these prawns are only roughly chopped. Transfer the mixture to a bowl and set aside until needed.
For the Prawn Skewers, heat a griddle pan over high heat. Peel and devein prawns and thread onto skewers. Brush with sesame oil and season with salt. Cook prawns on grill for 2 minutes each side, or until cooked and golden. Set aside to keep warm until needed.
For the Crispy Prawn Legs, place the oil in a large saucepan or deep fryer and heat to 200C.
In a large bowl mix together the flour, salt and pepper until well combined. Toss the prawn leg sections through the seasoned flour until well coated. Shake off the excess flour and deep fry in hot oil until prawn legs are golden and crisp. Remove from oil with a slotted spoon or spider and drain on several layers of kitchen paper until needed.
Return the Prawn Broth to the stove over medium heat and bring to a simmer.
Meanwhile, divide the bean shoots, mint leaves and coriander leaves equally between 4 deep noodle bowls.
When the Prawn Broth is simmering, Use dessert spoons to quenelle Prawn Dumpling mixture and drop into hot broth. Simmer the dumplings for 4 – 5 minutes or until they float to the surface. Remove the dumplings from the broth with a slotted spoon and divide evenly between the serving bowls.
To serve, add 3 Crispy Prawn Legs and 3 Skewered Prawns per bowl. Top each bowl with roasted peanuts, fried shallots, and a few threads of the julienned red chilli. Place 1 lime cheek in each bowl and serve with a jug of hot broth on the side. Pour broth into the bowl just before eating.