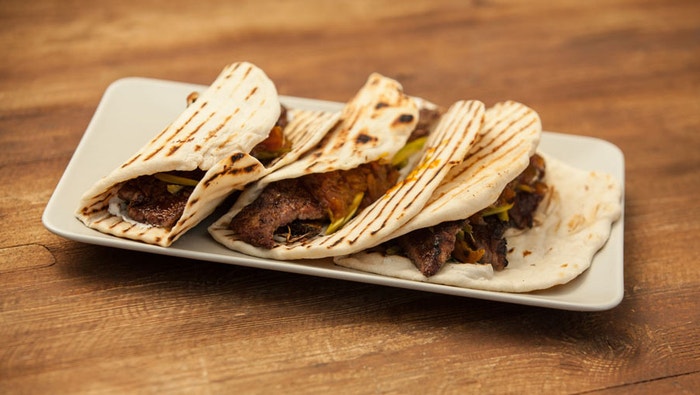 Steps
Preheat oven to 220C.
For the Flatbread, combine dry ingredients in a large bowl. Add water and melted butter and mix to a soft, loose dough. Cover and set aside to rest for 15 minutes.
Place a large griddle pan on the stove top over high heat. Divide rested dough into 4 equal balls. On a floured surface, roll each ball out thinly. Brush each flat bread with a little of the oil and grill for 1 ½ minutes each side until charred. Remove from griddle and set aside, covered with a clean tea towel and keeping warm until needed.
For the Beetroot Tangelo Relish, place all ingredients, except salt, into a medium saucepan and place over a low heat. Simmer gently until vegetables are soft and mixture is a jam like consistency, about 20 minutes. Season with salt to taste and set aside to cool until needed.
For the Smoked Goat's Cheese, first prepare a smoking gun with hickory smoking chips.
Place goat's cheese into a bowl and cover tightly with cling film. Pierce the cling film and insert the nozzle of the lit smoking gun into the cling film and allow the bowl to fill with smoke.
When bowl is full of smoke, remove nozzle and seal the bowl tightly with another layer of cling film. Set the bowl aside for 6 minutes to smoke.
One cheese is smoked, place in a small bowl and use a hand held electric mixer to whip the cheese until light and fluffy. Set aside until needed.
For the Roasted Golden Beets, place beetroot wedges onto a baking tray lined with baking paper. Drizzle the beetroot with the oil and season to taste. Roast for 30 minutes until caramelised. Remove from heat and set aside, keeping warm until needed.
For the Charred Beetroot Leaves, heat a large griddle pan over high heat. Place beetroot leaves on the hot griddle and cook leaves on each side for about 20 seconds, until charred. Set aside until needed.
For the Ribs, drizzle the ribs with the oil and season with fennel pollen, salt and white pepper. Place ribs on the hot griddle and grill until caramelised on each side. Remove from heat and, using a microplane, grate a little chocolate over the hot ribs in a thin layer. Set aside for 3 minutes to rest and for chocolate to melt.
To serve, remove bones from ribs and shred meat.
Place shredded meat on to the flat breads, dividing evenly. Top each flat bread with 2 pieces of Roasted Golden Beets, a spoonful of Beetroot Tangelo Relish and several dollops of whipped Smoked Goat's Cheese. Garnish with a sprinkle of finely sliced beetroot stems. Serve with Charred Beetroot Leaves on the side.