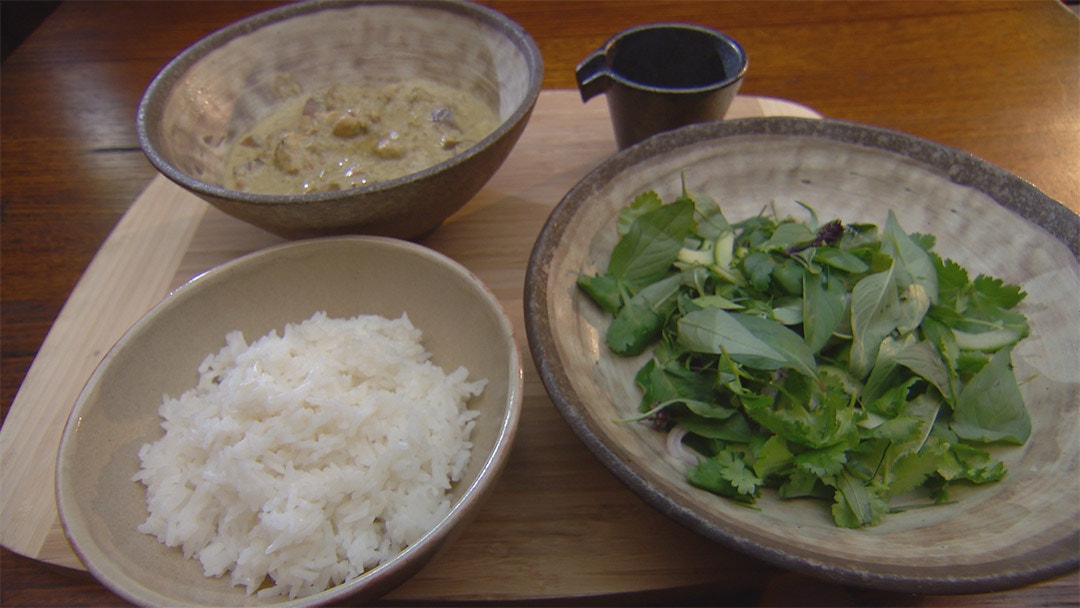 Steps
For the Chicken Curry, place coriander seeds and cumin seeds into a frypan and toast over medium heat. Transfer to a spice grinder along with peppercorns and process until fine. Transfer to a food processor.
Place coriander, galangal, chillies, shallots, garlic, lemongrass, lime leaves, belacan and one quarter of the fish sauce and grapeseed oil into a food processor and process until smooth.
Heat remaining grapeseed oil in wok and add the paste. Cook for 5-7 minutes, stirring regularly. Add chicken and cook until starting to brown, about 4-5 minutes. Add coconut cream, coconut milk, remaining fish sauce and chicken stock. Bring to a gentle simmer and cook for 20 minutes.
Add eggplant, palm sugar and lime juice. Simmer until eggplant is tender and sauce has reduced, approximately 10-12 minutes. Remove from the heat.
For the Rice, place rice, lime leaves and 1½ cups water into pressure cooker or rice cooker and cook according to manufacturer's instructions, until tender. Keep hot.
For the Nam Jim, place ingredients into a bowl and whisk together to combine.
For the Salad, place ingredients into a bowl and toss gently to combine.
To serve, toss salad and dressing together and place into a serving bowl. Serve with Thai Green Chicken Curry and rice.