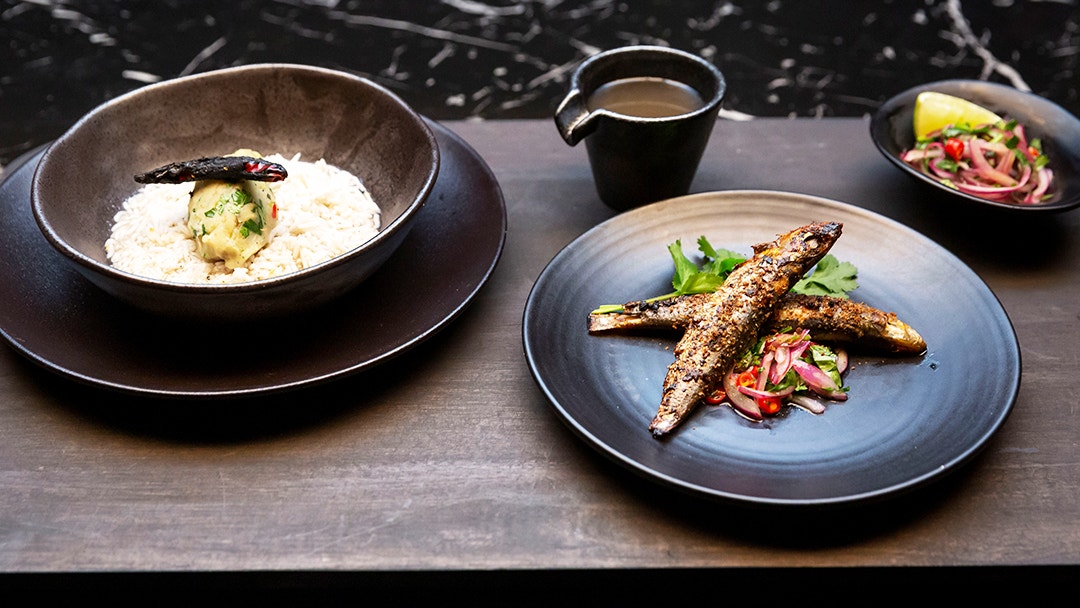 Ingredients
Smoked Rice (Panta Bhaat)
White Soy Ginger Sardines
Smoked Potato Mash (Aloo Bhorta)
Steps
For the Smoked Rice, rinse rice three times under running water until water runs clear.
Place into a rice cooker or small saucepan with the water. Bring to the boil, cover, reduce heat to low and cook until tender, about 10 minutes. Transfer to a bowl and allow steam to evaporate. Cover with ice cold water and set aside.
Burn the dried red chilli over open flame until blackened and add to rice.
Stir through a pinch of salt and allow to steep for 30 minutes. Strain rice through a lined sieve over a bowl and reserve the rice and water separately. Discard chilli.
For the White Soy Ginger Sardines, dry sardines and place into a dish.
Place chillies and half of the ginger into a small food processor and process to a paste.
Grate remaining ginger and place into a piece of muslin cloth. Squeeze the ginger over a bowl to collect one tablespoon of juice. Add 1 tablespoon of chilli ginger paste, white soy sauce and honey and mix well.
Rub sardines with the mixture, ensuring the cavities are coated also. Set aside to marinate for 30 minutes.
Meanwhile, place spices into a frypan over medium heat and toast until fragrant. Grind to a fine powder and set aside.
When ready to serve, heat mustard oil in a large frypan over medium high heat. Fry sardines until a char forms on skin and flesh is just cooked through to the bone, about 3 minutes. Remove from the heat.
Finish with a squeeze of lime juice and a sprinkle of ground spices.
For the Smoked Potato Mash, boil potatoes in salted water until soft and starting to fall apart. Drain and allow potatoes to cool.
Heat ghee in frypan and shallot and garlic. Cook until golden brown. Remove from the pan and set aside.
Hold dried chillies over an open flame until blackened then set aside.
Once potatoes are cooled, knead them gently first by crushing by hand, then working from outside in, lightly knead until lumps are removed potato is bound together well.
Add shallots, garlic, chilli, mustard oil, salt and coriander and mix gently. Set aside at room temperature.
For the Onion Salsa, combine ingredients in a bowl with a pinch of salt. Crush with fingers to release juices and create a dressing. Set aside in a small serving bowl.
To serve, place Panta Bhaat in bowl. Top with a quenelle of potato and top with charred chilli. Place sardines onto a serving plate and garnish with coriander. Serve the salsa and smoked water on the side.