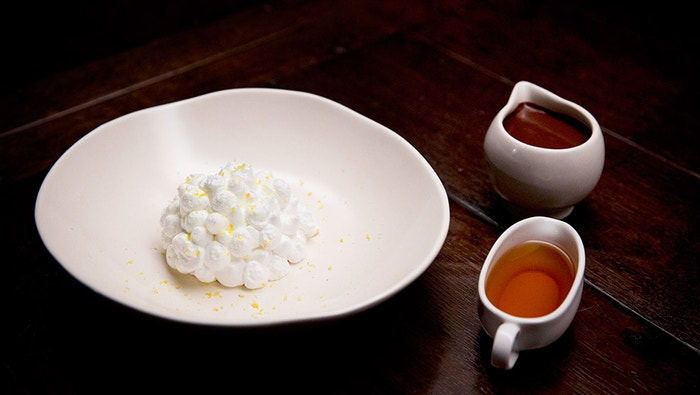 Steps
For the Semifreddo, place eggs, egg yolk and sugar into a bowl and set over a saucepan of simmering water. Whisk until thick and pale and doubled in size, about 6-8 minutes.
Meanwhile, place cream into a separate bowl and whip to soft peaks.
Once egg mixture has doubled in size, whisk in coffee until dissolved. Remove from the heat and allow mixture to cool slightly. Gently fold the whipped cream into the egg coffee mixture, transfer to a piping bag and pipe into 8 x 7cm dome moulds. Place into the freezer until set.
For the Chocolate Sauce, place cream into a saucepan over low heat until just boiled. Place chocolate into a medium sized bowl. Once cream is boiling, remove from heat and immediately pour over the chocolate. Leave for 1-2 minutes then stir with a spatula until smooth. Stir in liqueur di café until completely combined. Set 2/3 of the Chocolate Sauce aside in a small jug for serving. Reserve remaining 1/3 of the Chocolate Sauce for the Semifreddos.
Once Semifreddos have set, use a melon baller to remove the centre from each dome. Fill with reserved 1/3 of the Chocolate Sauce and return to the freezer until set.
For the Coffee Praline, place sugar in a small frypan over medium heat until sugar is melted and golden brown in colour.
Spread coffee beans onto a baking tray lined with baking paper. Once sugar is ready, pour over the coffee beans and set aside until completely cool and set. Break up into shards and transfer to a food processor. Blitz to a fine crumb and transfer to a bowl. Set aside.
For the Meringue, place egg whites into the bowl of an electric mixer fitted with a whisk attachment and whisk until foamy. Add sugar, 1 tablespoon at a time, until sugar has dissolved and meringue is glossy. Transfer to a piping bag and set aside.
To serve, unmould Semifreddo and dip into the Coffee Praline to coat. Shake off excess praline and place onto serving dish, flat side down. Pipe kisses of meringue over each dome to completely enclose the Semifreddo. Sprinkle with grated lemon zest.
Heat brandy in a saucepan on the stove until hot, then pour over coffee bombe and ignite. Serve with warmed Chocolate Sauce on the side.