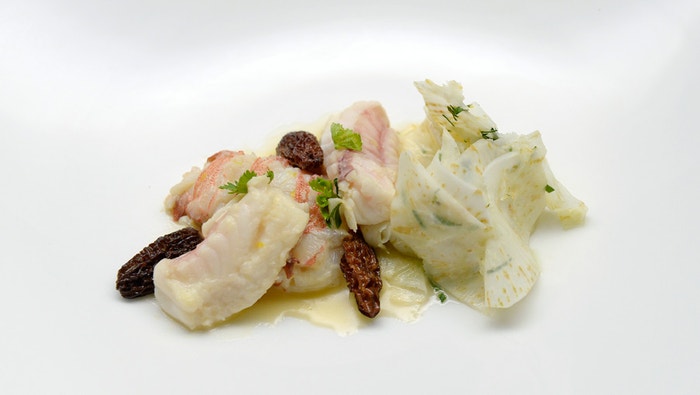 Steps
For the Poached Seafood, blanch Moreton Bay bug in boiling, salted water for 2 minutes. Remove bug from pot and reserve the blanching liquid. Refresh the bug in a bowl of iced water then cut shell down through the centre of the belly and gently remove the tail flesh from the shell and set aside until needed. Reserve shells and head for the stock.
Trim monkfish, remove skin and cut into 2cm x 7cm batons and set aside until needed. Reserve all fish trimmings for the stock.
For the Seafood Stock, combine all ingredients in a medium saucepan over high heat. Once boiling, reduce heat and simmer for 20 minutes. Set aside until needed.
For the Celeriac Salad, peel celeriac and use a mandolin to shave the bulb into paper thin slices.
Combine vinegar, sugar and salt and stir to dissolve. Place celeriac in pickling liquid for 10 minutes.
Meanwhile, scoop the pulp out of the horned melon and pass through a sieve to extract the juice. Once pickled, remove the celeriac from the pickling liquid.
Place the celeriac strips and celeriac leaves into a medium sized bowl, add the horn melon juice and toss thoroughly to coat. Set aside until needed for serving.
For the Burnt Butter Morels, heat butter in a small frypan over medium heat until butter is foamy. Remove the soaked morels from the water, squeeze to remove excess liquid and pat dry. Add the morels to the pan and sauté with the butter for 5 minutes. Remove morels from pan and drain on kitchen paper. Reserve 2 tablespoons of the burnt butter.
For the Butter Emulsion, place the stock in a large frypan over medium heat, add the zest and simmer for 5 minutes. Whisk in half of the cream and return to a simmer. Gradually whisk in butter, one cube at a time until slightly thickened and glossy.
To finish the Poached Seafood, place bug meat and Monkfish batons into the frypan of Butter Emulsion. Poach for 15 minutes, maintaining a temp of 45C, until just cooked through. Remove seafood from pan and set aside, keeping warm until needed to serve.
Once seafood has been poached, whisk in remaining cream into the Butter Emulsion along with 2 tablespoons of the reserved burnt butter from the morels. Season with salt and sugar to taste and transfer to a serving jug, keeping warm until needed.
To serve, place a bug tail and 2- 3 batons of Monkfish on each plate and drizzle with a little Butter Emulsion. Add 2 -3 Burnt Butter Morels around the seafood. Place a small mound of Celeriac Salad next to the seafood. Garnish with micro herbs.