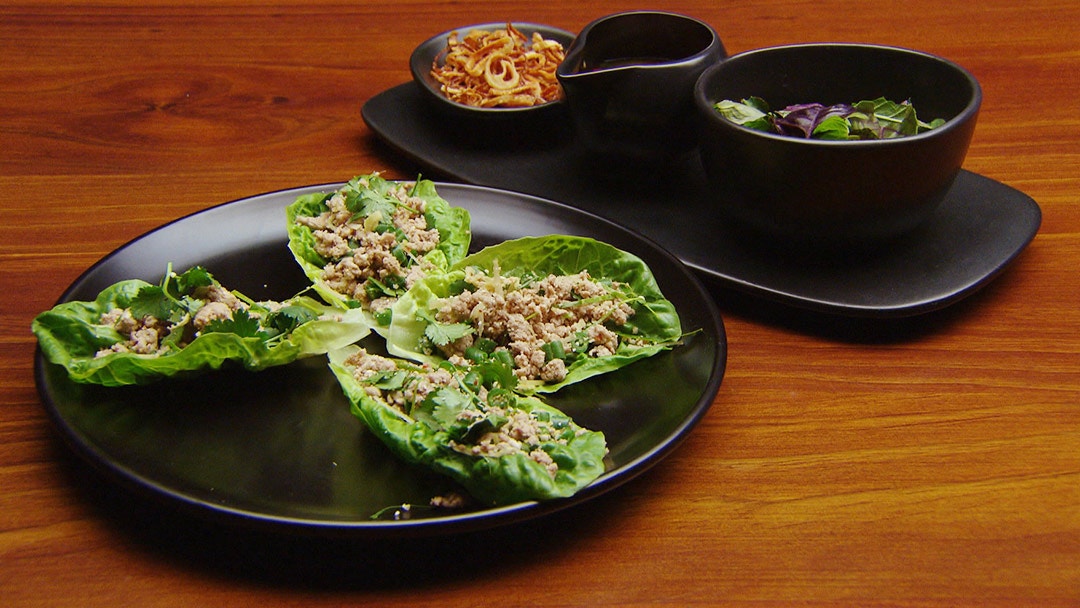 Steps
For the Herb Salad, wash leaves and dry on a paper towel. Place into a bowl and place into the fridge until ready to serve.
For the Thai Dressing, place palm sugar and fish sauce into a saucepan and stir over low heat until sugar dissolves. Remove from heat and stir in the lime juice and chilli. Set aside.
For the Pork Mince, place the chillies into a small frypan and toast over medium heat for 2 minutes until fragrant. Transfer to a small food processor and blend to a fine powder. Set aside.
Place the rice into the frypan over medium heat and toast until slightly browned. Remove from the heat and process rice to a coarse powder. Set aside.
Using a stand mixer with a coarse mincing attachment, mince the pork fillet and place into a medium bowl.
Place wok over high heat. Add vegetable oil and pork mince and sauté until just cooked, about 3 minutes. Add garlic, ginger, lime leaves and lemongrass and stir through for 1 minute. Add green beans and sauté for 2-3 minutes until beans are tender. Remove from the heat and stir through the coriander leaves. Mix through roasted rice powder. Add the ground chilli and salt, to taste. Spoon mixture into lettuce leaves to serve.
To serve, spoon 1 tablespoon of Thai Dressing over each lettuce cup, top with salad and chilli from the dressing.