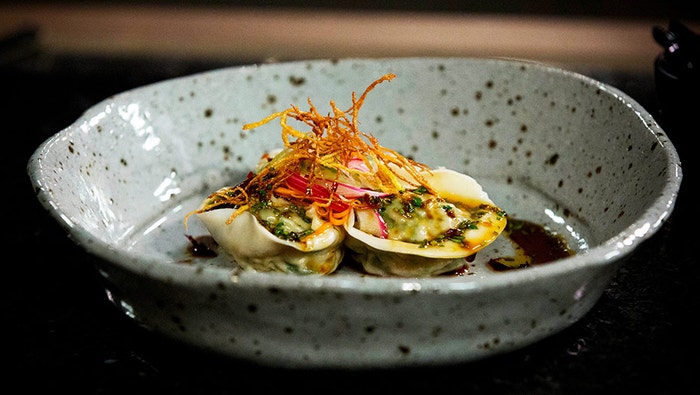 Steps
For the Pickled Vegetables, combine rice wine vinegar, caster sugar, salt and coriander seeds in a small saucepan over medium heat and cook until sugar has dissolved. Remove from heat and set aside to cool.
Place carrot, onion and cucumber into a medium sized bowl. Once pickling liquid has cooled, pour over vegetables and set aside to pickle.
For the Spiced Infused Soy Sauce, place all ingredients except for the Shao Xing wine in a small saucepan over medium heat and simmer until the sauce has slightly reduced, about 2 minutes. Remove from heat and allow to cool, then stir in Shao Xing wine and set aside until required.
For the Chilli Oil, heat a medium frypan over medium heat. Add oil and pork belly fry until the pork is crispy and fat has rendered, about 5 minutes. Add garlic and ginger then remove from heat and allow the oil to cool. Once cooled, strain the oil into a clean bowl, add chopped dried chillies and set aside to infuse until required.
For the Cold Water Dough, combine flour and salt in a medium sized mixing bowl then using chopsticks, mix in 70 grams of cold water until combined. Knead dough until smooth, about 4-5 minutes. Cover the bowl with cling film and set dough aside on the bench to rest until required.
For the Marinated Chinese Chives, combine chopped chives and salt in a small bowl. Mix together using hands, bruising the chives slightly as you mix to release flavour. Set aside until required.
For the Dumpling Filling, place chopped pork belly in a food processor and blitz until minced, careful not to over process. Transfer minced pork belly to a medium sized bowl and add salt, Shao Xing, soy, egg yolk, stock powder and white pepper and use hands to mix well until fully combined. Add ginger, spring onion and sesame oil and mix well until combined. Squeeze the moisture from the reserved Marinated chives into the mince and stir through the dumpling mixture.
For the Crispy Shredded Ginger, place oil into a small saucepan over medium heat. Once oil is hot, add ginger and use a spider to gently stir the ginger pieces. Fry until golden brown then remove from heat and drain on paper towel.
To prepare the dumplings, first place a wide deep saucepan of water onto high heat and bring to the boil.
Uncover the reserved resting dough, place onto a clean work surface and knead for a further minute. Roll out dough onto a clean bench into a log and cut into 12 even-sized portions. Roll each portion into a ball and place onto a paper-lined tray, covering with cling film as each ball is rolled to prevent drying out
Using a piece of dowel, roll the balls out into 10cm wide discs. Use a 10cm ring cutter to trim off the edges of the disc. Place approximately 3 teaspoons of Dumpling Filling and fold wrapper in half to seal, ensuring all air pockets are removed. Plump the dumplings by pressing on each side of the filling and then fold around into a tortellini shape. Set each dumpling aside on a floured tray and repeat with remaining dough and filling.
Place 6 of the dumplings into pot of boiling water and cook for 7 minutes then remove using a slotted spoon. Add a cup of cold water to the boiling water then repeat this process to cook remaining dumplings in batches of 6.
For the Red Oil Sauce, place all ingredients in a bowl and mix well to combine.
To serve, arrange 3 Szechuan Pork and Chive Dumplings in each serving bowl. Pour the Red Oil Sauce over the dumplings and top with some of the Pickled Vegetables. Finish with Crispy Shredded Ginger.