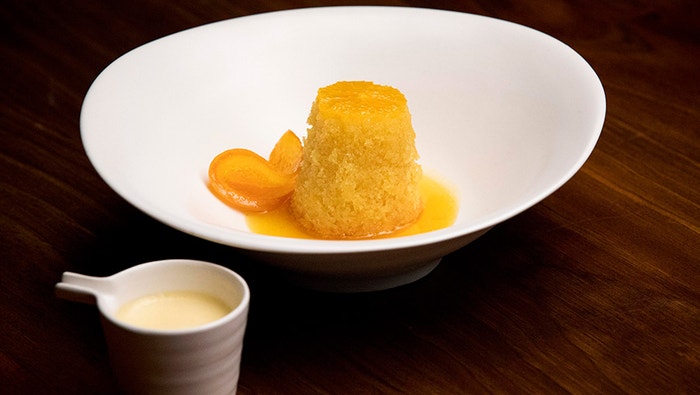 Steps
Pre-heat oven to 180°C. Grease 4 x 4cm wide dariole moulds with butter and set aside.
For the Steamed Pudding, cream sugar, butter and orange zest in an electric mixer fitted with a paddle attachment until light and fluffy.
Add egg and mix until combined. Slowly add the flour and milk and mix until well combined. Set aside.
Slice orange into 5mm thick slices. Use a 4cm round cutter to trim each slice into rounds. Coat orange rounds in caster sugar and place one into the base of each dariole mould.
Divide pudding mixture between the dariole moulds. Place moulds into a deep baking tray and fill the tray with enough boiling water to come halfway up the sides of the moulds.
Cover the tray with aluminium foil and place in the oven to cook until the puddings are risen and firm to touch, about 25-30 minutes. Remove from oven, remove moulds from the tray and set aside.
For the Orange Syrup, place orange juice, sugar and 100ml water into a small saucepan and stir over a low heat until the sugar dissolves.
Add the cinnamon quill and orange slices and simmer until the syrup reduces to a runny honey like consistency, about 20-25 minutes. Remove from heat and set aside.
For the Custard, place a heatproof bowl over the top of a medium saucepan of simmering water. Add the egg, sugar and zest to the bowl and whisk together until the sugar dissolves. Slowly add the milk and continue whisking until the mixture thickens.
Remove bowl from heat and strain custard into a jug.
To serve, turn Steamed Puddings out onto serving plates. Drizzle with Orange Syrup and Orange Custard.