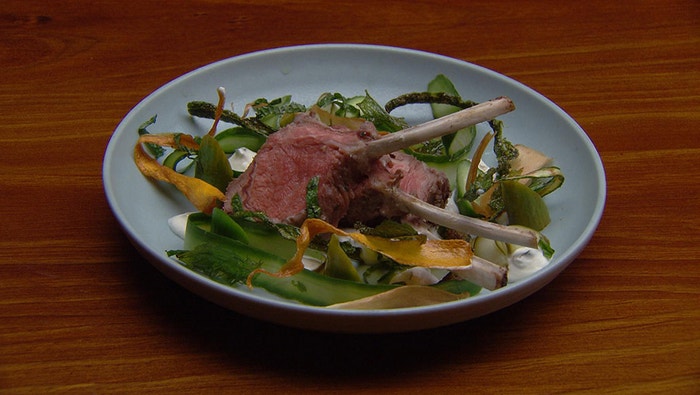 Steps
Preheat oven to 190C.
For the Pickled Cucumbers, combine vinegar, sugar, ouzo and 120ml water in a small saucepan and bring to the boil over medium heat.
Meanwhile, thinly slice ribbons from the continental cucumber and place in a heatproof bowl. Cut baby cucumbers lengthways into 4 and add to the bowl. Pour hot pickling liquid over the cucumbers and set aside to pickle for 30 minutes. Drain well and set aside, in fridge, until serving.
For the Mint Labneh, place yoghurt into a double layer of muslin. Bring the corners of the muslin together and twist tightly. Place into a sieve set over a bowl and place a heavy saucepan on top of yoghurt. Set aside, in fridge, to allow liquid to drain, about 30 minutes.
Transfer the yoghurt into a bowl, add mint and stir to combine. Transfer to a piping bag and set aside, in fridge, until serving.
For the Salt Baked Lamb, combine all ingredients, except lamb, in a medium bowl to form a wet sand like consistency. Place ¼ of the mixture onto a lined baking tray then place lamb rack on top. Cover the lamb fillet with the remaining salt mixture, leaving the bones uncovered. Cover each bone with foil to prevent burning.
Place in oven to cook until centre of lamb racks reaches 46 - 48C, about 22 – 28 minutes, or longer until cooked to your liking. Remove from the oven and rest for 15 minutes, keeping warm until serving.
For the Vegetable Chips, bring the grapeseed oil to 170C in a small saucepan.
Using a vegetable peeler, peel ribbons from carrots, parsnip, asparagus and the skin from the cucumber. Reserve peeled cucumber for serving.
Deep fry ribbons until golden, about 2-3 seconds. Remove from oil and set aside to drain on paper towel until serving.
To serve, scatter Pickled Cucumbers and fresh cucumber around the serving plates. Pipe Mint Labneh onto each plate and add Vegetable Chips. Break the salt crust from the Salt Baked Lamb. Brush the lamb to remove excess salt, carve into individual cutlets and add to the plate. Garnish with mint leaves.