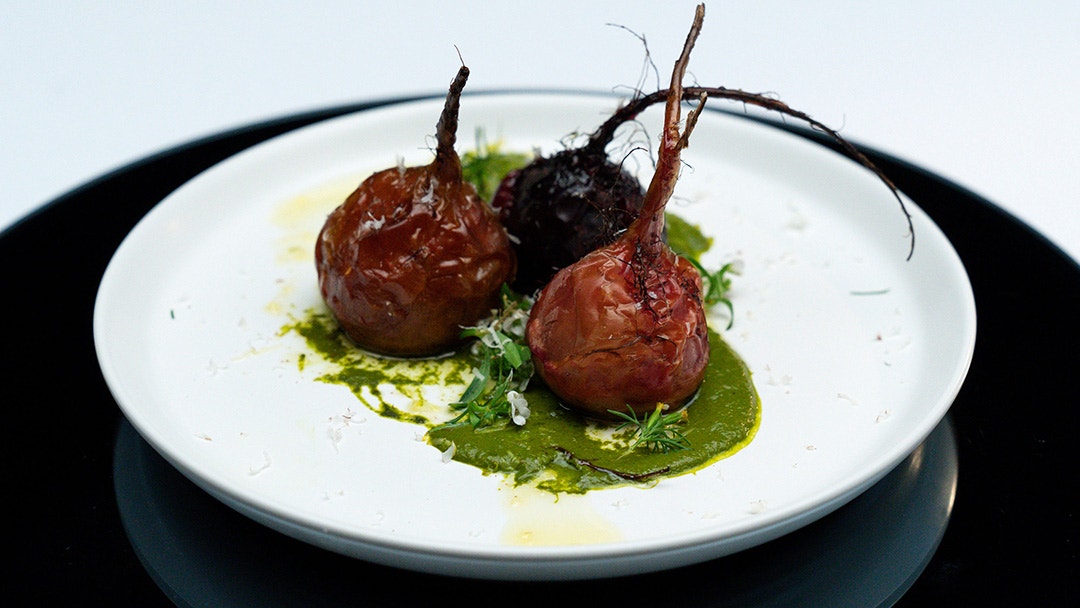 Steps
Preheat the oven to 180C.
For the Roasted Beetroots, remove and reserve the leaves from the beetroots for the puree.
Cut across the tops of the beetroots to remove the stems. Clean the beetroots thoroughly. Place into a roasting dish, cut side down and drizzle with olive oil. Season with salt and pepper.
Cook in the oven for 20 minutes, turn the dish and cook until tender, a further 20-25 minutes, depending on the size of the beetroots. Remove from the oven and set aside.
For the Beet Leaf Puree, place 20g butter and the oil into a medium frypan. Add the onion and garlic and sauté until golden and soft.
Add the beetroot leaves and sauté until softened. Transfer to a blender and blend until smooth. Slowly add the remaining butter then the baby spinach. Season to taste and set aside.
To serve, spoon the Beet Leaf Puree onto each serving plate. Arrange the Roasted Beetroot onto each plate. Drizzle with olive oil, season with salt and finish with hazelnuts, liquorice leaf and edible flowers.