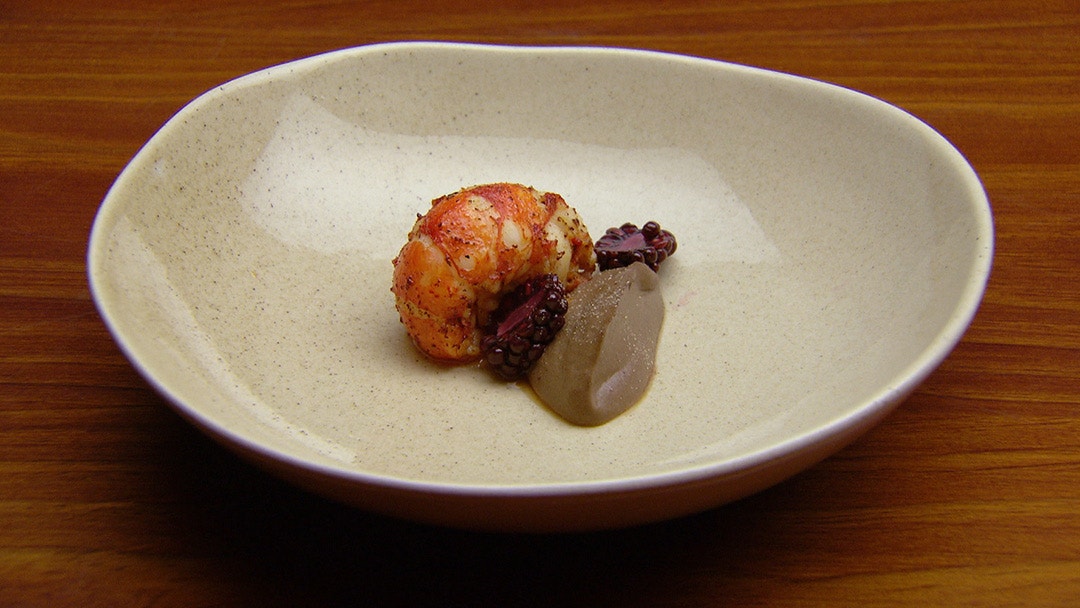 Ingredients
Black Garlic and Eggplant Puree
Steps
Prepare an ice bath in a large bowl.
For the Black Garlic and Eggplant Puree, place wire rack over an open flame. Place eggplant on top of the flame and char on all sides until its blackened and soft, about 20 minutes.
Transfer to a bowl and immediately cover with cling film. Set aside for 15 minutes. Remove the stem and peel and discard the skin. Place the eggplant flesh into a blender along with the remaining ingredients.
Pass through a sieve, set aside and keep warm.
For the Marron in Beurre Blanc, place a large saucepan of water over high heat and bring the water to the boil. Prepare an ice bath in a large bowl.
Place 4 marron into the boiling water and cook for 3-4 minutes then immediately plunge into the iced water bath. Repeat with remaining 4 marron.
Once cool enough to handle, remove the marron from the water. Remove the tails by holding the tail and twisting the head. Cut the belly side of the tail and carefully remove the tail meat and discard the digestive tract. Set the tail meat aside.
Remove the mustard from the marron heads and place into a saucepan. Set aside and reserve all shells.
Add the butter and garlic to the saucepan and gently melt over low heat and add a pinch salt.
Add the peeled marron tails to the butter, in batches of two and cook for 30 seconds -1 minute on each side. Remove from the butter and keep warm.
Reserve the marron butter for the Marron Bisque.
For the Tomato Sugo, place beef fat into a medium frying pan and place over a medium heat until golden brown and fat is melted.