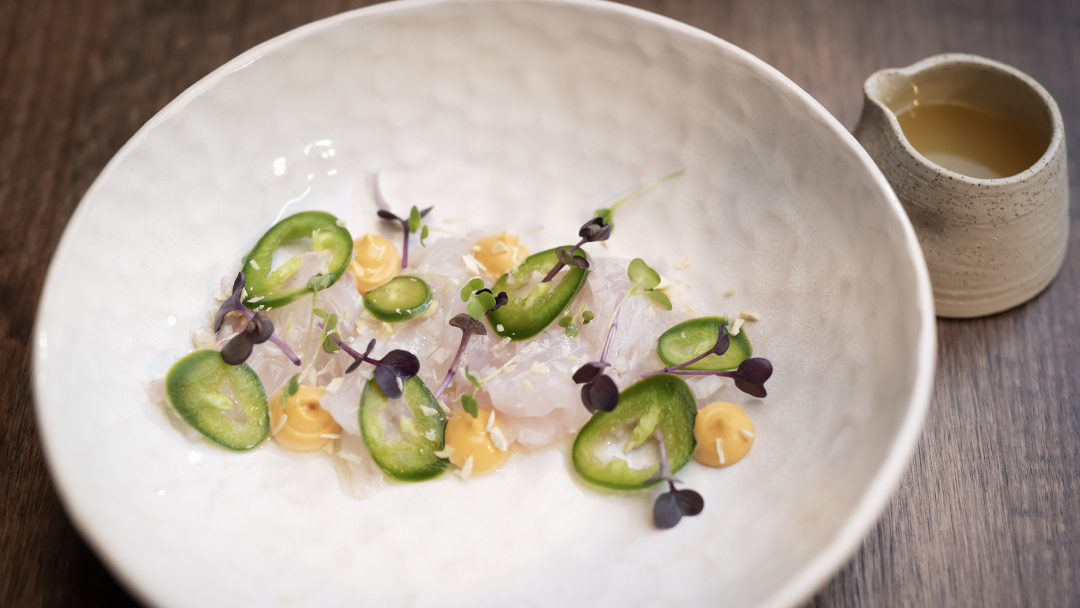 Steps
For the Cured Snapper, fillet the snapper, remove skin, pin bone and trim out bloodline.
Starting from the tail, cut 3-4 mm thick x 2cm wide slices at a 45°C angle, slicing with a very sharp knife and holding the flesh with the other hand to avoid ripping the fish. Reserve trimmings.
Arrange on a tray and sprinkle with flaky salt to allow the fish to cure and firm up, about 20-30 minutes. Reserve in the fridge until ready to serve.
For the Leche de Tigre Dressing, crush garlic cloves roughly. Cut coriander stems in half and crush with the back of the knife. Slice the ginger in thick slices and crush with the back of the knife. Place everything into a glass bowl.
Add lime juice, passionfruit pulp, chilli, reserved snapper trimmings, sugar and salt to taste. Mix and crush together. Cover and set aside in the fridge for 20 minutes.
Strain through a fine sieve, adjust seasoning if needed and reserve in the fridge until ready to serve.
For the Rocoto Emulsion, place rocoto paste, yolk and 1 tablespoon oil into the canister of a stick blender.
Process with the stick blender until a thick paste starts to form and then add the remaining oil slowly to create the emulsion.
Add salt, to taste, then transfer to a squeeze bottle, reserve in the fridge until ready to serve.
For the Quick Pickled Jalapeños, place jalapeños, dressing and a little salt into a bowl. Set aside to pickle for 15 minutes then drain and reserve until ready to serve.
To serve, arrange about 8 slices cured snapper on each serving plates and top with 7 slices of pickled jalapeno. Spoon diced shallots either side of the fish. Dot with rocoto emulsion and spoon 1 tablespoon of leche de tigre over each portion of fish. Garnish with mixed cress and 1 teaspoon shaved cashew. Serve with extra dressing on the side.
* Rocoto chili paste or Aji Rocoto Paste is a Red hot paste popular in Peruvian cuisine you can find it in many Latin/Spanish Delis and Specialty stores or online, if desired Aji Amarillo Paste can be used as well which is a bit less spicy and more fruity with passion fruit notes which will pair perfectly with this Tiradito as well.