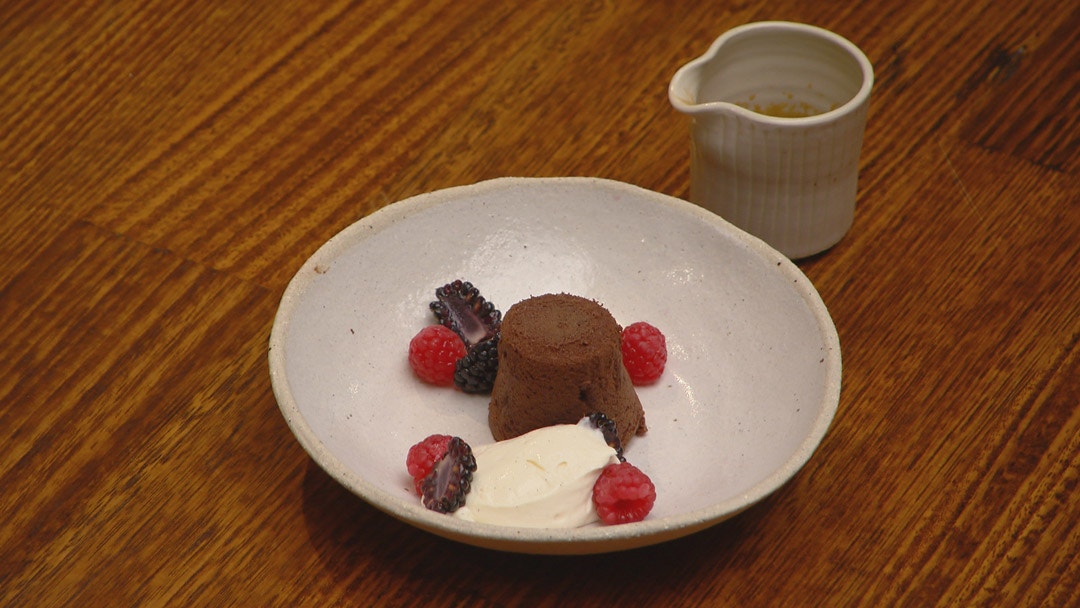 Steps
Preheat oven to 180C.
For the Macerated Berries, place the berries into a heatproof bowl and set aside.
Place the remaining ingredients into a saucepan over low heat and stir until sugar dissolves.
Remove from the heat and pour over the berries. Stir gently and set aside for one hour.
Remove the berries and pat dry. Set aside.
For the Scotch Caramel, place sugar into a small saucepan over medium heat. Allow sugar to melt until deep amber in colour, swirling pan occasionally for 6-10 minutes.
Meanwhile, warm the cream gently. Add to the sugar and whisk until combined.
Add the butter and a couple pinches of salt until the caramel is bitter and salty in flavour.
Add the whisky and whisk until combined. Set aside.
For the Chantilly Cream, whisk the cream to very soft peaks and slowly add the caster sugar. Add the vanilla and whip to stiff peaks. Set aside in the fridge until required.
For the Lava Cake, grease 10 dariole moulds and set aside on a tray.
Place the chocolate and butter into a microwave safe bowl. Melt in the microwave in 20 second intervals, until melted.
Place the eggs and brown sugar into the bowl of a stand mixer and whisk until combined.
Add the chocolate mixture and mix on medium high speed for 2 minutes then stop the mixer and add the remaining ingredients. Mix on high speed for 2 minutes, scraping down the inside of the bowl every 30 seconds.
Pour the mixture into the prepare moulds and bake for 8 minutes, until cakes are risen with a slight depression in the centre. Remove from the oven and set aside for 1 minute before inverting onto serving plates.
To serve, add some Macerated Berries and Chantilly Cream to the plates. Pour warm Scotch Caramel over the cakes and serve immediately.